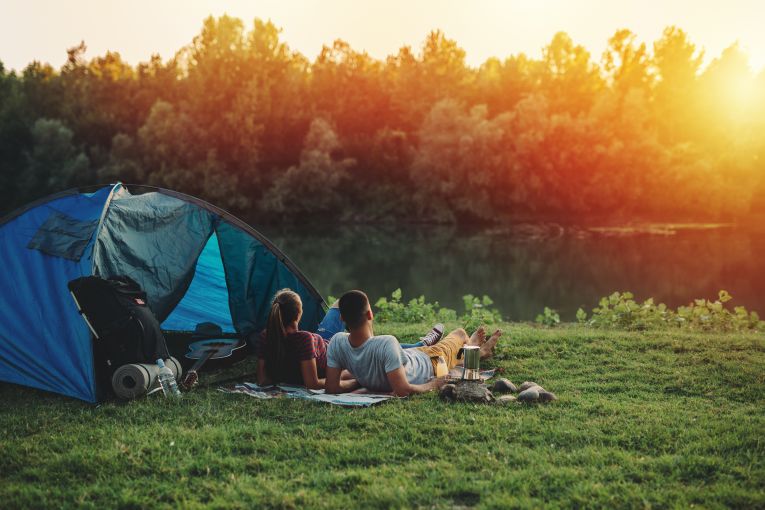 Travelling and camping are important for people who enjoy outdoor activities. But making a trip that runs several days can cost you a whole lot of money whether you are leaving the country or just travelling to another city.
Going on a camping trip does not have to be costly. There are several things you can do to cut down your travel expenses and still enjoy a great time camping. Below we share seven useful tips to help you save money when going on a camping trip:
1. Preparing A Travel Budget
When you decide to take a trip, you should ensure that you prepare a budget to avoid overspending. This enables you to stay on track with your budget by ensuring that you do not buy unnecessary stuff as you travel. Include snacks that you will need in your budget to buy ahead of your trip. This will save you lots of money that you would have otherwise spent on your way buying snacks in service stations and rest stops.
2. Rent An RV
Renting an RV has become extremely popular for budding travelers. The main reason why many are opting to rent is because it's more affordable than buying an RV. When renting an RV it's always best to compare rental companies to ensure you're not only getting your money's worth but their terms and conditions also cover the length of time you have the RV and how far you drive it. You can view websites like The Wandering RV to help guide you in this process of comparing companies.
3. Avoid Unnecessary Costs
If you are taking a flight to your camping location, you can save a significant amount of money by just avoiding unnecessary costs. For instance, avoid paying extra for priority boarding and seat selection as those can push your flight's prices up. To ensure that you get a good seat, check into your flight in good time.
Extra luggage can incur unnecessary costs as well. Airlines will charge you more if the weight of your luggage exceeds the stipulated weight. Whether you are bringing a carry on or have bags that you need to check in, measure and weigh them before you get to the airport to ensure that they do not exceed the weight and size restrictions set by the airlines. This will go a long way in saving you money in extra charges.
4. Be Willing to Adjust Flights
Airlines charge different rates depending on the season. Peak seasons are more expensive while buying airline tickets during low seasons don't cost much. If your schedule is not that tight, you can save more by being flexible with the day and time of your flight.
More importantly, be willing to take cheaper flights that will have several stops as opposed to expensive, direct flights if you want to save more. In the same way, be willing to take a non-priority seat as opposed to a priority seat. Also, look out for discounts and seat sales. Check the date where you intend to travel and be flexible to adjust it to take advantage of cheaper flights.
5. Avoid Expensive Camping Grounds
Most parks and camping sites charge campers for every night they stay. However, these charges vary widely depending on the season, location and facilities available. When looking for camping grounds, do extensive research to find free or low-cost camping sites. Most camping grounds have most of the amenities that you can access in your home including Wi-Fi and restaurants. However, camping on such grounds will cost more.
On the other hand, there are camping grounds that stay true to the natural environment and are less crowded. Most campers find such grounds interesting and they are either free or far less costly. When you are working with a minimal camping budget, this is an option you can consider. However, finding these kinds of grounds can be tricky. The best way to find them online, try joining camping groups and talk to people who are well versed in camping.
When planning your camping trip, consider fixing it during the week as most camping grounds charge lower fees per night during weekdays than they do during the weekend.
6. Volunteer in Exchange of Free Camping
If you are willing to offer some labor in exchange for a free camping site, you can save yourself money that you would otherwise pay for a camping ground. There are campsites that allow campers to volunteer. In exchange, campers are allowed to pitch their tents or park on the camping grounds for free. Before you enroll for such a program, check with the camping site to see the kind of jobs they offer volunteers.
Note that some of the jobs are not glamorous at all – janitor jobs tend to be more common. All in all, taking up a volunteering job can save you a significant amount of money and in some instances, enable you to make some extra cash. Better still, you will get a chance to interact with other people who enjoy outdoor activities and make friendships that you can tap during your next trip.
7. Take Advantage Of Free Activities
When planning a camping trip, it is important that you schedule your activities in advance so you know how much they'll cost you and how long your trip will take. There are many activities you can engage in during camping depending on where you choose to camp. If your camping location has a waterfront, you can enjoy boat riding and kayaking.
Other outdoor activities that you will find in most campsites include hiking, bird watching, walking trails, bungee jumping, wildlife spotting, skiing, biking and fishing. However, some activities such as boat riding and kayaking are costly. Instead of paying for such activities, plan to engage in free activities like going on trails with other people, biking, hiking and you can bring your own fishing rod for fishing.
You can also enjoy watching sunsets and stargazing at the end of the day. Remember to plan for days when the weather might not be as favorable like when it rains. Consider carrying some board games in Cass the weather doesn't permit outdoor activities.
8. Cook Your Own Food
When you go on a camping trip, you have the option of bringing pre-packaged food or cooking your food. While pre-packaged meals are convenient, they might cost more and might not taste good. On the other hand, making your own camping food will require some effort on your part but it will cost you much less and you will enjoy savory meals.
Instead of spending money buying prepackaged foods, opt to make your own food, and save more money. This does not necessarily mean that you invest in a portable burner or grill, though you can as well. To keep your costs low, opt for foods that you can make over a campfire. If you don't have any ideas for a recipe, research ahead of your trip. There are numerous foil-wrapped recipes that you can explore during your camping trip that only require few ingredients to cook.
9. Carry A Reusable Water Bottle
Most campers spend a lot of money buying and carrying cases of bottled water to drink during camping. You can reduce your camping costs by avoiding bottled water and buying reusable water bottles instead. It's better to bring a reusable water bottle that has a filter during your trip.
With such a bottle, you can get water from fountains or other clean water sources and filter it. You can also cut down on costs by opting to bring real dishes as opposed to disposable paper cups and plates. Real dishes are easier to use and will only take a few minutes to clean.
10. Cut Down On Long Travels
Getting to your camping site and back matters. The further your camping site is from your home, the more it will cost you. One of the best ways to save on travel costs is to find a camping ground that is close to your home and camp there.
If you choose to camp in a destination far away from your home, schedule your trip during off-peak seasons when there is less traffic and crowds. Most destinations are cheaper during off-peak seasons and it will help you save some cash.
11. Find a Way to Work as You Travel
An interesting way to manage your travel costs is to work as you travel. One way to do this is to find remote work that you can do while away. If you are a freelancer, you can use platforms for remote work to find gig opportunities.
If you are a professional photographer, you can spend time taking unique photos that other people would be willing to pay for. If you are a writer, you can use your time while travelling to find new ideas to write about. All these are great ways to make money as you travel.
Final Thoughts
Traveling can be quite expensive, but there are things you can do to bring the cost down. One is scheduling your travels during off season when flights are cheap and camping sites are not crowded. During such seasons, traffic is nonexistent in most places and most likely the camp sites will not be crowded.
Also, avoid camping sites that are located close to major tourist attraction sites because those will most likely be expensive. Save more money by applying the tips discussed above and keep your travel budget minimal the next time you decide to hit the road.