8 Tips to find the perfect hostel
Don't check out the reviews on the hostel's own site

I think I'm "ridiculously good" at finding hostels, but I don't know if this euphemism is for it: "please take care of it. I don't have time for this bullshit." Anyway, I've slept in a lot of hostels, and most of them I was absolutely satisfied with my choice. So in this blog I share my tips & tricks for finding a hostel that suits you. Because there's nothing more mood killing for an otherwise perfect trip than a party hostel where you want to unwind, a very boring establishment where people shout pssssst while you come in every night, or bedbugs.
#1 Use a comparison website
Don't dive into the dark corners of the World Wide Web yourself, but let other people do the work for you. Use a comparison site like Partyhostelguru.com. As a rookie I once made the mistake of using my best friend Google for my hostel. One of the first hits seemed to be a great hostel: fun, party, close to everything in Bangkok. I was sold. I didn't dare – thank God – book yet and asked – thank God – a seasoned hostel-booking girlfriend if I would make a good choice. If I had "read the reviews and the average grade was above 8.5?" Uhh no. On the site there were of course a few great testimonials, but these were selected by the hostel itself. On Hostelworld I read some less beautiful testimonials: dirty, cockroaches, and – horror – bedbugs. Not such a smart choice anyway, and with an average grade of 6.8 not a hostel that I had chosen from the long list of fabulous hostels in Bangkok. So use a comparison site, sort by rating and choose a hostel from the top of the list.
#2 Take a close look at the pictures
Sounds superficial, but you can really judge a hostel on its cover! Do you like tight white spaces, cozy rooms where your grandmother can suck a dot, or do you prefer the hipster look? Click through all the photos and see what appeals to you. Are there group photos among them? Then this is probably a very social hostel. Ideal if you travel alone and want to socialize, less so if you want to explore a city anonymously without the intrusive "and where did you come from" types.
#3 Read the description
Okay, it's really not just about looks. Read the description carefully as well. Pay attention to keywords such as: great atmosphere. This means that they like to be sociable, a hostel where they are going to be social and perhaps organizing stuff for the guests. Think about what you think is important and check if this is mentioned in either the property description or the facilities. Wi-Fi? In the rooms or only in the common areas? If you want to save money by cooking, check if they have a kitchen. If you're travelling with hand luggage only, check if you can rent bed linen and towels or – even better – these are included in the price. If you want to make trips without having to do too much detective work yourself, check if they offer tours or have a travel desk. Are you alone and want to meet new friends? Then a bar on location is ideal for a low-key drink, where you can meet your fellow partygoers that night.
#4 Cheap is sometimes expensive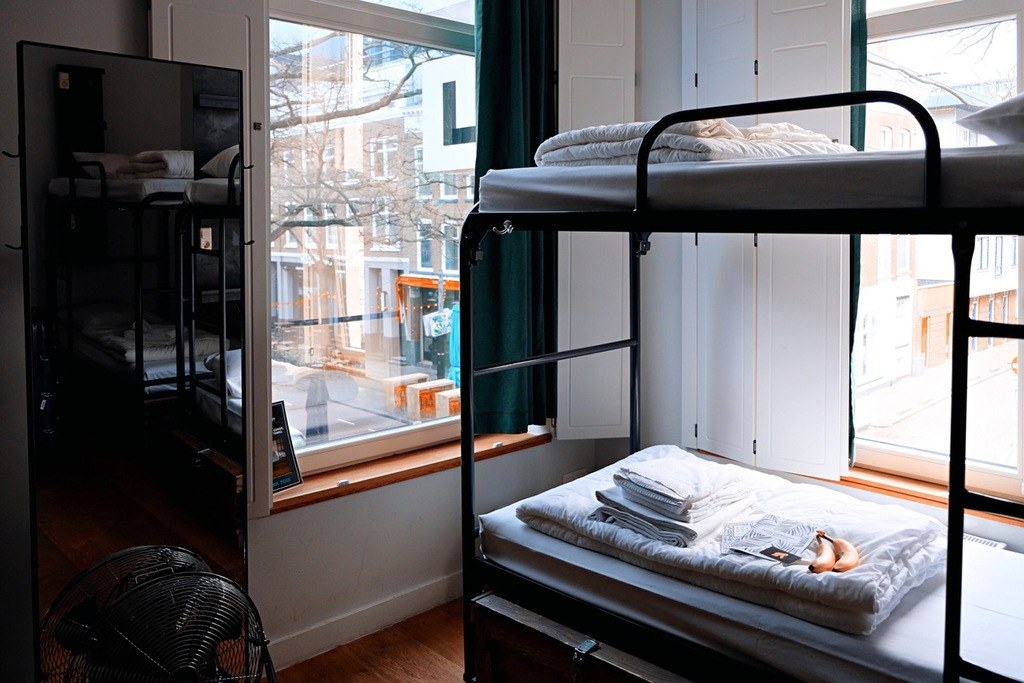 Make sure you check the price of your room. When you have to pay attention to the little things, you may be tempted to simply book the cheapest hostel. But if you have to pay separately for your Wi-Fi, you can easily end up a lot more expensive. The same goes for things you really need but may not fit in your bag, such as a towel and a blanket.
#5 Location
Where do you want to go on your trip? Some hostels seem great, but turn out to be in a deprived area. Not as safe as a solo traveller. Do you prefer the old town close to all the sights, or do you find it important to stay within walking distance of the pub street? Check Google Maps or Google where the things that are important to you are, so you don't have to spend unnecessary time and money on Uber and subways.
#6 Check the reviews
Some work, but oh so important. And nice, when it comes to a good hostel. When the staff is extensively thanked, tell people about the best friends they have met here, the clean showers and nice beds, then you are well. Do you read that the location is really shit, the staff is acting weird, the only friend they met is a cockroach or mouse? Quickly check out another hostel.
#7 Never book a room in a female only dorm
Cause those chicks can't be trusted. No kidding, but there's something about girls choosing a girls only dorm. They socialize less, is my experience. They just sit behind their laptop and Netflix, barely greet you when you come in full of energy and zest for life, and shower way too long. A friend who thought I was suspicious and not worthy of feminism because of this opinion, became very upset after one night in the female dormitory. By the way, the rest was fully booked, hence this wretched choice.
#8 Party hostel versus non-party hostel
Actually, there are only two options that matter when it comes to hostels: party hostels and non-party hostels. Of course, using the above tips, you choose a good host and not a bad one. So is it time for the ultimate question of conscience: to party or not to party? If you're planning a shitload of sightseeing while your boyfriend is sitting on the couch at home, the non-party variant is a wise choice. For all the others, it probably gets a bit more difficult. Of course you can also go to parties in a non-party hostel, it will only be a bit more difficult. Do you think a good night's sleep is very important, but do you also want to party? Then look for pub-crawls in the city you're going to. Then you can sleep in your boring hostel, and look for fun and new friends during the bar crawl (because here you can also excellent only acte de presence). Do you – eventually – sleep through snoring like a walrus on the coke next to you, snoozing alarms and noisy sex couples? Then choose the party hostel.