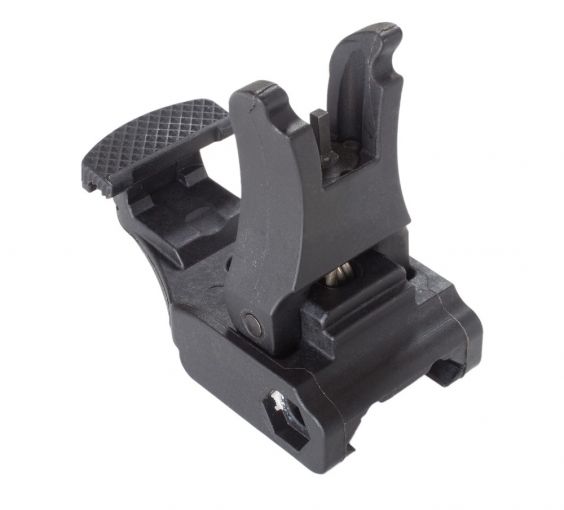 5 Of The Best Flip Up Sights: A Complete Guide
​​If you are using a rifle that has a flat top surface, then you are on the better end of the deal. After all, this particular design allows you to install various optics to the rifle. Scopes, reflex sights, holographic sights, you name it. But have you ever pondered in a moment of what you are going to do if these optics fail in the middle of a hunt?
More...
Optics failure does happen. Of course, there is no telling when it will occur. But as the most of us would say, prevention is always better than cure. For this case, you are going to need the best flip up sights. A flip-up sight (or backup iron sight) is a device that would come to your rescue if your scope will suddenly malfunction.
As its name suggests, a flip up sight has a folding design that allows you to mount it below your main optics. You are only going to flip it into position if there is a need to so. Although they are not as good as scopes, they can still provide the necessary sighting ability to make accurate shots.
I have seen multiple flip up sights in the market today. Honestly, most of them are good. But I have some ideal recommendations that would fit into different niche and needs. Here are they.
Preview
Editor's Choice
Runner Up
Budget / Friendly Option
High-End Option
The Best Flip Up Sight for AR15
Best Flip Up Sights: Top Recommendations
The Magpul Gen 2 Sight is an impressive flip sight. It is a high-grade device that the military personnel use all over the world. Compact and durable, the Magpul Gen 2 MBUS can survive extreme terrains and harsh weather conditions. It can resist impact and has excellent resistance to high temperatures. These capabilities are due to its durable polymer construction.
Notably, the Magpul Gen 2 MBUS is a practical option. But its performance speaks more significant than its price. This rear sight can have an adjustment for windage. Meanwhile, the flipping mechanism is operated by a spring-loaded action. It is ambidextrous, too, as you can flip the sight on both sides! The presence of spring pressure and detent enables your view to stand erect. But at the same time, it folds smoothly and efficiently.
The Magpul Gen 2 MBUS is also compatible with the MIL-STD 1913 Picatinny rail. You can even mount it with the STANAG 4694 receiver. The best thing that this item offers is that it maintains a similar height-over-bore design with the modern A2 iron sights. Therefore, you will never lose your accuracy at all. The device also comes with wing shields that protect its dual apertures.
If the Magpul Gen 2 MBUS does not fit your taste, you should try this next option. Specifically, the UTG Flip-up Rear Sight is a great option, considering the built-in features that it has. It comes with different adjustments for windage and dual-aiming aperture.
It has a unique design that enables the adjustment of the canting angle (horizontal) compensate the ballistic performance of your gun. The best part of this is that the UTG Flip-up Rear Sight is compatible with multiple rifle platforms. Therefore, you can always use this device to enhance your shooting precision.
The UTG Flip-up Rear Sight has a Picatinny deck. But it can still cater Weaver rails to ensure that no firearms will be left behind. When it comes to the ergonomics, this flip sight does not lag either. It has an integrated a Posi-lock technology that prevents the view from tipping. Moreover, it has an easy-to-use thumbnut for quick and hassle-free installation.
Of course, you can expect that the UTG Flip-up Rear Sight is rugged in all sense. The entire body comes with high-grade aluminum. It can withstand high impacts and any weather conditions. The sight is very lightweight, too.
The SNIPER Tactical Rear Flip Up Sight is an excellent budget-friendly alternative to the Magpul. On its price range, I can say that the SNIPER Tactical stands out. It has integrated modern ways of injection molding to curtail its production cost. But you can still guarantee that it retains the functionality that a flip sight should have.
Of course, you are getting what you have paid. But despite not being designed for complex applications, this flip up sight is still usable for plinking purposes. Well, as a backup for your high-end optics, this device is pretty decent already. The tool comes from an industrial polymer, which ensures its overall durability and performance on the field.
The device has a full A2 post design. It also comes with precise adjustment for elevation and windage. The locking retention feature that it has improves its stability. Therefore, it does not suffer any problem in zeroing. Meanwhile, the mounting platform of this flip-up sight is compatible with front gas blocks and handguard rails. Most Picatinny and Weaver rails accept this view.
For those that can spend on a high-end flip up sight, this product from Troy Industries will undoubtedly impress you. It raises the bar when it comes to the stability and performance. Specifically, this one has a low-profile design that sits perfectly on any top rails that are taller than the typical M4. If you are a shooter who wants to shoot near the barrel, this particular sight is an excellent choice.
The Troy Industries Micro HK Style is an excellent accompaniment for modern firearms such as Robinson Armament XCR, Sig Sauer 556 Pistol, and Carbine, IAR. But as long as your weapon has a high top rail, this particular firearm will work. It has a flexible mounting style that accommodates both Picatinny and Weaver rails. The installation process is not complicated, either. It won't cause any nuisance in your firearm at all.
I like the Troy Industries Folding Battle Sight because it has a high resistance to recoil. It doesn't wobble or move even against a substantial impact. Its reliability is among the reasons why many full-time shooters love this option. Of course, it has a durable construction, too. It is made from aluminum and was coated with Mil-Spec hard anodize finish. Therefore, it can resist any potential detriments in the field.
If you are looking for a flip-up sight for your AR15 rifle, you should get this unit from Diamondhead USA. This flip up sight comes from a robust polymer, which makes exceptionally durable. The diamond-shaped apertures of this device and the rest of its top housing come with the NiteBrite inserts. The latter is a cost-efficient alternative to the standard Tritium. Therefore, shooting in low-light settings is plausible with this device.
The Diamondhead USA Polymer Flip Up Sight is an excellent partner for AR15 and other sporting rifles. That is due to its spring-loaded mechanism that allows stability and responsiveness. By just a click of a button, the sight flips up quickly. It can erect steadily and safely while you are using it. The recoil of your gun can't shake off this device. The same mechanism also enables a quick and flat folding of the sight.
Take note that diamond-shaped apertures of this flip-up sight allow quick alignment of the rear view. Moreover, the rear sight is compatible with firearms that comes with factory-made handguards. It can also be suitable for those models that have fixed front sights. Of course, you can still mount it with Picatinny and Weaver rails. You will love the fact that this view has a tool-free elevation adjustment. It simplifies its overall operation.
How to Choose the Best Flip Up Sights
​As I said earlier, a flip up sight is a necessary amenity to backup your optics. You may not use it from time to time. But during dire circumstances where your scope suddenly bogged down, a flip up sight can serve as a proxy. A good flip up sight can provide the same level accuracy and stability as scopes. Therefore, you should know how to choose a unique variant of this device.
Folding or Fixed Models
The sights that you can see today can either come in two models: fixed or folding. The attached models are those that won't retract or fold. They stay in position, which enables quick and smooth aiming. But since we are talking about flip-up sights here, it is somewhat given that you should choose those views can fold. The flipping mechanism is an indicator that the sight is suitable for backup use only.
Build
Of course, the construction of a flip up sight is still the most paramount consideration. Regardless of the application, the view should always be rugged and durable. It should not break quickly, especially if you are hunting on harsh terrains or extreme weather condition. The device should still be able to stand erect, even amidst multiple recoils. The durability and responsiveness of the flip up sight will determine its overall performance.
Currently, the best options that you have are those sights that come from aluminum, steel, or polymer. You can say that views made from polymer are cost-efficient options. Meanwhile, those that come with steel and aluminum are ideal for high-end and tactical applications. After all, it is a given that these two have better rigidity compared to their polymer counterpart.
Aperture
The precision of a flip up sight is dependent on its opening. In layman's term, the gap is a "peephole." You can see this part on the rear portion of the sight. That is where you are going to peek at your target. Of course, it is a necessary thing that the front sight and the rear sight are correctly aligned. Otherwise, you won't be able to get an accurate aim.
Get a flip sight that has big aperture if you are just going to do short-range shots. The bigger the hole, the faster you can acquire your target. On the flip side, smaller apertures are perfect for long range shooting.
Visibility
The flip up sight should be able to operate in low-light conditions. Although they don't have night-vision or light-transmission capabilities, flip up sights have still other ways to illuminate your way. Correctly, you should get a model that has a visible front sight. In this way, your eyes can get an optimal contrast between the view and your target.
Moreover, some manufacturers are coating their sights with Tritium to provide a certain degree of illumination. This particular material will glow in the dark, offering visibility to the shooter.
Final Verdict
It is an excellent thing if you are going to install a flip up sight on your rifle. It enables you to shoot confidently, wherever you are. Once there is an incidental optics failure, the flip up sight ca work as an alternative. It is still capable of precise target acquisition. Although its operation is manual, these still sights remain to be ergonomic and user-friendly.
If you are going to look for a flip up sight, better consider the units that I have featured first. They have a good reputation in the shooting community for being stable and reliable. They have a decent construction that won't give up, regardless of the condition.
However, the first one that you should focus your attention is the Magpul Gen 2 MBUS Rear Flip Sight. It is not advisable if it cannot do the job. Although this device comes from a polymer, it still proves to be a rugged option. Its usage is not limited to plinking alone, as it can work with military and tactical operations.
Moreover, it is compatible with different firearms, making it a versatile option. Sturdy, ergonomic, and convenient, these are the characteristics that I can attribute to the Magpul Flip Sight.
But for you, which of these units do you think is the best flip up sight? Tell me all your answers in the comment section below!