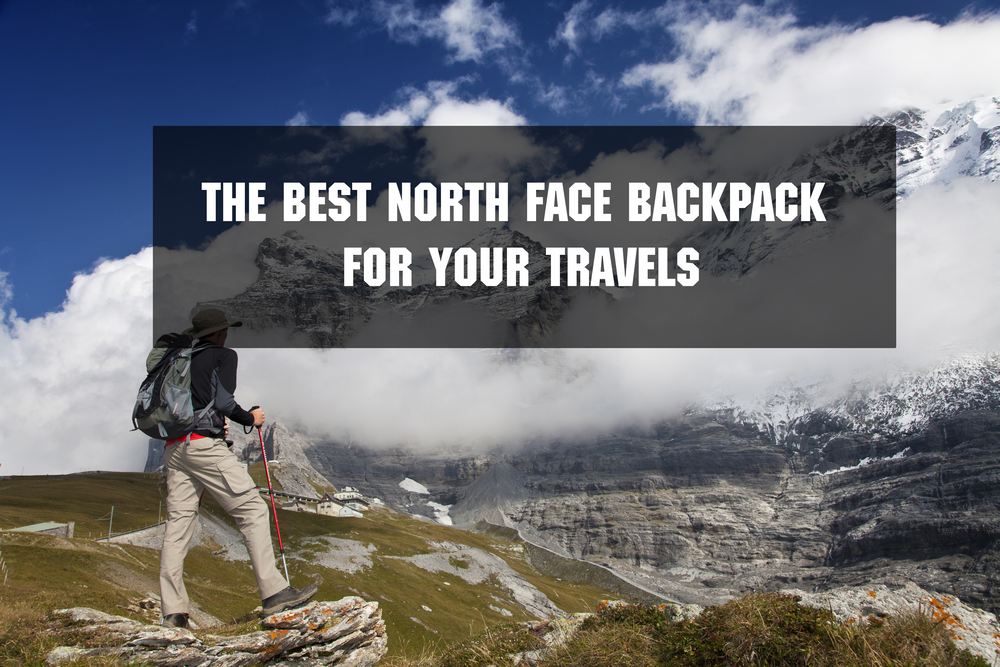 The Best North Face Backpack for Your Travels
Introduction
Nothing will ever compare to the experience of heading to the great outdoors with the right bag. It usually contains your camping, hiking, and travel essentials. However, selecting the bag that suits your adventures may not be as simple as you think. You have to choose from a wide variety of pack out on the market today. Often, it could be a challenging experience, especially for beginners.
More...
The Best North Face Backpack for Your Travels
So, we will break down the backpack options you have to select. We will discuss weekend backpacks, overnight packs, and bags made for longer trips. And most especially, we will reveal the best North Face backpack for you! Here's what you need to know.
Three Main Categories of Backpacks​
Here are the major types of packs:
Overnight Backpacks
Overnight bags are the smallest of the overnight bags. It has a design that can accommodate adequate food and gears for a light backpacker. So, if you are planning for a night or two somewhere, this is the bag for you. You can fit your sleeping equipment in here, including your sleeping bag, pad, and tent. You can also use this pack for an extended day.
​Weekend Packs
These weekend backpacks are huge enough to hold a small tent, backpacking sleeping bag, and a pad. Plus, you can also carry extra layers and clothing. You can also bring a small stove, basic cookware, food, water purifier, navigation tools, and first aid kit. It may all depend on your backpacking skills. So, if there's still plenty of room in the bag, you may carry a lightweight chair, small lantern, and coffee press.
Weeklong Backpacks
If you pack correctly, you will have enough room for a five-night travel or more using this bag. It has a design that allows more cooking fuel and food than a weekend backpack. Also, you can bring some extra layers and clothes. It is a bag that you can rely on for winter camping and expedition because it is in a larger size.
Moreover, it can even accommodate a mountaineering equipment, first aid kit, a thicker sleeping setup, and survival tool. You may look for a suspension, loops, and straps for the attachment of the gear or for hauling the backpack.
Features You Should Consider
Here are some of the pack features you should search for when purchasing a travel bag:
After checking the dimension of your bag, you will want to look for the features that seem vital to you. However, you have to pay for extra charges, especially for additional features of the backpack. They may make your trip more convenient and enjoyable. Also, you may want to search for ultralight packs with innovative suspension and ventilation. With that, here are the other features to explore:
​External vs. Internal Frames of the Pack
The first thing you have to look for is internal vs. the outer structures. Backpacks having external structures are the authentic styles of the pack. It is probably what your grandparents and parents used for their first backpack. They are not as popular as before, and only a few brands sell them now.
However, they do have some benefits such as the option to strap more gears on the exterior and the capability to hold a heavier load. Plus, they also have an excellent ventilation system and higher-quality of materials at low costs.
On the other hand, an internal frame pack will have a suspension system that is smaller than the external frame. However, it usually uses lighter quality of materials. Hence, it is lighter and low profile compared to external frame backpacks. A load of this pack tends to be closer to the body in a compact manner. So, your mobility and balance become better. During hiking, it is also easier to carry and transport.
Hip Belt and Shoulder Padding​
You may need to hold most of the weight of your things on your hips. With that, when you plan to carry a heavier backpack, you may need to require more padding. Thus, for weeklong travel, you may want enough shoulder and hip padding.
In fact, some manufacturers provide hip belts that they customize through heat molding. It usually promotes more comfort and balance. That way, the backpack won't shift in one direction as you move your hips. Also, you may look for a pack with more weight foams and mesh. It tends to be more comfortable to use during hot weather conditions.
​Ventilation System
If you are packing for warmer weather, the ventilation system may be crucial. You may want more materials like lightweight mesh, framing systems, and perforated foams. They keep the back of the bag away from your skin. However, this feature does not affect the general performance of your backpack. It just increases its comfort level.​
External Attachments of the Pack​
It is an excellent feature since you can put more versatility in your backpack. Daisy chains, bungees, and loops can boost the capacity by allowing you to lash extra gear outside the pack. The compression straps will allow you to adjust your backpack to a smaller size. It does not move the bag around so quickly.
Backpack Compartments
It is a feature to consider when you want to keep your gear fully organized. Some backpacks only contain a single main compartment where your things go. However, you may need multiple compartments, especially for longer trips and hiking. Also, make sure that there are several access points on the back, front, top, and side of the bag. You want to access your things easily without unloading unnecessary items. Remember that the more organization system the bag has, the more it will commonly cost.
Rain Cover​
Some bags have integrated rain cover that you can tuck away. Others have rain covers that have divisions. To make your travel easier during rainy days, you may want to consider this feature.
Removable Lid​
It is an ideal feature if you are looking to set up a base camp. Also, it is an excellent addition for a hiker. It makes everything more convenient, especially storing smaller items and water bottles.​
Compatibility to Hydrate​
Some bags range in capacity, with an average of at least 13 liters. If your bag is compatible, it will have a divided sleeve to hook and slide into for the bladder to stay vertical. The harness provided on the shoulder will have a clip and port, which are easily accessible. Water bottle compartments are also great additional, in particular for a hydration system.​
Best North Face Backpack​
The North Face is not just a very popular brand, but it also proves the durability of their bags. Here is a list of the best North Face pack you should consider buying:​
The Iron Peak backpack will allow you to carry your travel essentials. In fact, it has a first compartment that has a fleece lined tablet and laptop sleeves. It can hold up to 28 liters capacity. Also, it features the "FlexVent" suspension system with injection molded shoulder straps and padded mesh back. It also has a ventilation and support pad.
Plus, the product comes with a front stash pocket for extra volume. The main compartment has an internal organization media pocket, zippered pocket, and cord management. It has water bottle tabs, reflective bike-light loop, and shoulder strap webbing. The external pocket is also ideal for keeping electronics and sunglasses. Lastly, it has a whistle buckle and removable waist belt.
It is an ideal everyday backpack and travel bag.
Also, the pack is not crazy big. In fact, it is the right size for your everyday on-the-go bag.
The lining of the bag is fantastic.
It has a sleek design.

However, the bag is not suitable for hiking for several days.
It can only hold a limited number of gears and items.
The Unisex Big Shot backpack has a polyester material. Plus, this one also has imported materials. The manufacturer redesigned the bag into a 33-liter daypack. So, it is ready for an action filled weekend and hikes. What makes it more appealing is its "FlexVent" suspension system. It comes with injection molded straps and padded mesh back with panels.
Thus, it offers maximum ventilation and support. The backpack has a flex-lined tablet and laptop sleeve in the first compartment. So, it can protect the gears and devices from falls and bumps.
It is a well-constructed day pack.
The backpack is suitable for hikes and extreme activities.
It has enough rooms for more things for your weekend trips.
Plus, it is also rainproof and weatherproof.
The central slot can fit water bottles, accessories, and gears.
Also, you can use it at school, at work, and during travels.

Although it is weatherproof and rainproof, it won't work if you soak the bag for longer periods.
It only has one large compartment for everything
The Recon Backpack has nylon, imported materials. Also, it boats its "FlexVent" injection molded straps and extra PE foam for more comfort. The product also comes with air mesh with back panel and PE sheet for back support. Additionally, it has a main compartment with tablet and laptop sleeve. It also boasts its hydration and organization port.
Besides, the backpack has a reflective light loop and second compartment. Moreover, the bag also has front mesh pocket and a small stash pocket. It has a hip belt and sternum strap that you can remove.
It is a solid and comfortable backpack.
The pack has also an attractive overall design.
You can use it for sports events, hiking, camping, and any other outdoor activities.
Using this bag, you can easily fill it with accessories and gears.
The materials, seams, compartments, and zippers are durable.
Also, it has an adequate hydration compatibility.
Plus, it comes with a second pocket for more storage space

The straps of this bag are too close to one another.
Also, the mesh material is quite rough.
It can easily harm your delicate skin.
The Jester Backpack has polyester, imported material. It can accommodate up to 26 liters capacity. Plus, it has a new design that boosts comfort in the shoulder straps and back panel. Also, the product comes with a 360-degree reflective light loop. It comes with water bottle tabs and webbing of the shoulder strap.
It is a great overall bag.
Also, it contains two main compartments in the back and the front.
Plus, it comes with several pockets for small items.
It boosts comfort even during severe weather conditions.

Its durability is questionable. The manufacturer could do better next time.
It could wet some items inside, especially during heavy rainfalls.
The Haystack backpack has polyester material and can carry up to 31.5 liters of gears and equipment. Also, it boasts its "FlexVent" injection molded straps. It has a padded foam back and an enormous main compartment. The backpack also comes with an organization and laptop sleeve. Lastly, it has a secondary zippered pocket outside.
It is an excellent backpack for travels.
Also, it can hold enough accessories and gears like cell phones, iPads, laptop chargers, etc.
It offers tons of space for a weekend camping or hiking.
The backpack is also comfortable to carry and hold.

It is quite expensive.
The size is not what you expect from the online picture.
Conclusion
So, what is the best backpack for everyone? You see, there is no right or wrong model for you! It purely depends on what activities you are doing and where you are heading. Also, you must consider how long your trip will be. As you determine these factors, they will help you find the right backpack for you.
But, what you need to try is The North Face brand, especially the Iron Peak Backpack. Not only that it is very durable and has high-quality materials, but it also promotes support and comfort. Plus, it can fit your things properly, and your body can handle the weight of the bag efficiently.