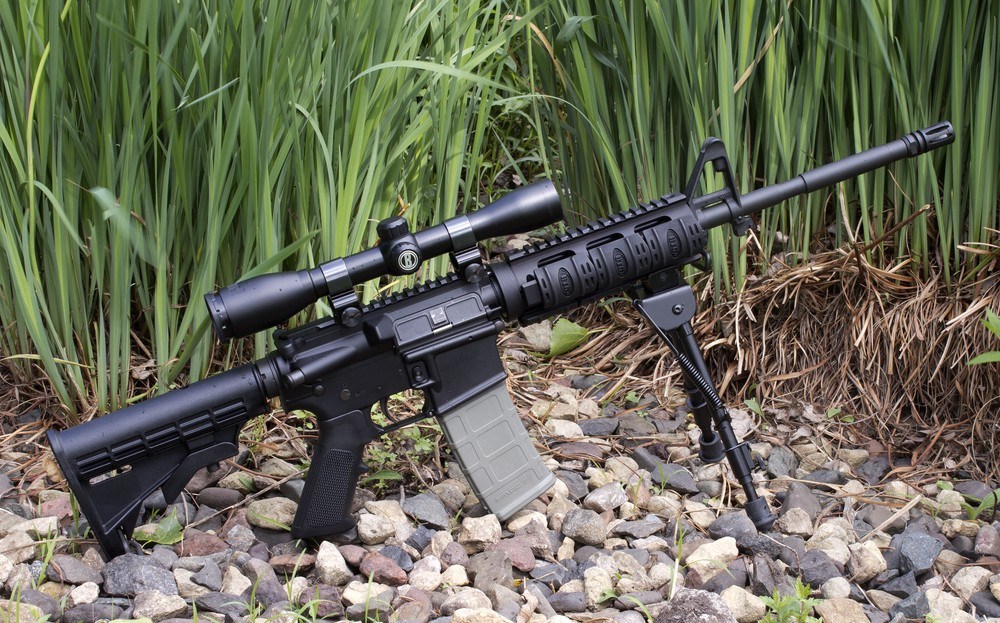 The Best Scope for AR 15 Under $100: A Budget-Friendly Guide
Getting a proper scope for your AR 15 can become a troublesome choice, especially if you don't have enough money to throw in the cashier. It is a difficult task, considering that the best ones are lying in the higher price range. But don't worry. There are still some options that you can take this essential addition.
More...
The Best Scope for AR 15 Under $100
Specifically, the best scope for AR 15 under $100 can provide decent accuracy and performance on the field. Although their quality is not as excellent as their high-end counterparts, their stability and proficiency are to be trusted. They can serve well, especially the starters and frugal.
Do not fret if you have no choice but to settle for them momentarily. These will never give you a difficult time. Sooner, if your financial restrictions have been lifted off, you can already chase those premium scopes. For the meantime, better check these entry-level ranges!
Preview
Editor's Choice
Runner Up
Budget / Friendly Option
High-End Option
The Best Compact Scope
The Best Scope for AR 15 Under $100
To start this list, I have to introduce the UTG 3-9X32 BugBuster Scope. The latter is a notably exceptional rifle scope, especially when it comes to its build and capacity. Despite its conveniently low price, this range does not lack reliability and performance. Its one-inch diameter tube is genuinely durable. It is entirely seamless and has been nitrogen-purged. With this, you can ensure that the scope can withstand external detriments such as water and fog.
Meanwhile, the optics of this scope have an emerald coating. With this application, the lenses can maximize their light transmission capabilities. As a result, the range can perform even in low-light conditions. Meanwhile, zeroing the scope is not a problem. The turrets are resettable and lockable, making them intuitive and ergonomic. Each click that you make gives 1/4 MOA adjustment.
The reticle of this scope is decent as well. Specifically, its Mil-dot reticle improves the precision of your aims. It also has an adjustable objective lens diameter, starting from 3 yards. The UTG 3-9X32 BugBuster Scope also provides green and red reticle illumination. That ensures that the scope can be usable in any setting.
The Monstrum Tactical S330P Ultra-Compact 3x Prism Scope is a well-made rifle scope. It has a compact and lightweight construction. However, you can expect that its quality is heavy-duty. It has a sealed housing that exhibits impregnability against external detriments. The tube can also withstand the impact caused by recoil. Strong shocks can't damage the internal circuitries of this device.
Take note that this scope is not for long-range applications. Specifically, it has a 3x 30mm rating, which means that it is only good for short and mid-range shots. It can provide quick target acquisition for any objects that are lurking within 500 yards.
On the other hand, this device is using a glass-prism optics rather than the conventional refracting options. The former is deemed to have a better performance than the traditional lenses. Prism optics are space savers, too. The visual clarity that it offers is impressive. Moreover, the performance of the Monstrum Tactical S330P Ultra-Compact 3x Prism Scope further improves through its reticle. Unlike its counterparts, the reticle of this device is visible even without illumination. But optionally, you can light up the black reticle to accommodate different lighting conditions.
This price of the Simmons ProHunter Truplex Reticle Scope is a deal-sealer for those who are running out of money. It is the perfect choice for those who want to settle for a scope that has the lowest price possible. Of course, its cost does not determine its overall quality. In fact, you will be surprised the features and performance that this scope can bring.
The Simmons ProHunter Truplex Reticle Scope is compatible with shotguns, rifles, and even handguns. It can deliver pristine and crisp images. They can keep up with long hunts or tactical operations due to the presence of its multi-coated optics. The latter has excellent light transmission capability and features a no-glare finish.
Just like the high-end units of Simmons, the ProHunter also comes with the TrueZero technology. With this feature, you can quickly zero the windage and elevation of the scope. Meanwhile, it also has a patented Quick Target Acquisition eyepiece. With this component, the range can offer you a minimum of 3.75 inches eye relief throughout the entire magnification. That's a feat that you can't find on most of its counterpart!
Let me break some rules here, and I hope you forgive me for this. I wanted to include the Vortex Optics SF-RG-501 StrikeFire II in this list due to its astounding reliability and consistency on the field. The price of this scope exceeds $100. But at the same time, I assure you that it is still below $200. If you can spend within this range, then I recommend that you should check out this scope.
The Vortex Optics SF-RG-501 StrikeFire II features an infinite eye relief to ensure the convenience of its users. It also has a parallax-free capability, which enables you to shoot even if your eyes are both open. I have tested it by myself, and I can say that after few rounds, I have evaded parallax errors. Moreover, your overall accuracy further improves due to its visible reticle that comes with green and red illumination.
I want to highlight that these illuminations can be compatible to night visions if you crank them in their lowest setting. The reticle also has ten brightness settings to improve its flexibility to the environment further. Meanwhile, the housing of this scope has O-ring seals to prevent the entry of debris and moisture. The body has been nitrogen-purged as well to ensure the fog won't go internally.
If you want a scope that has a compact and low-profile design, then you should consider the Bushnell Trophy TRS-25. The small dimensions that it has correctly harmonize its low price tag. It is an ideal choice for those who don't an extra load mounted on their AR-15 rifles. With this device, you can perform with maximum speed and mobility. The scope won't slow you down at all.
The Bushnell Trophy TRS-25 also features quick target acquisition capabilities. The 3-MOA DOT reticle that it has ensures that you can spot your targets from the get-go. Your view of the field is not limited by this scope as it has a high-contrast coating on its lens. The front glass has been tinted with bright amber to ensure clear image display and impressive light transmission.
Just like some of the scopes that I featured here, the Bushnell Trophy TRS-25 provides an unlimited eye-relief. Therefore, shooting with both eyes is possible. You also don't need to center your eyes at all, since this one has a parallax-free feature. On the other hand, mounting this scope is pretty straightforward. You can install it on any Picatinny and Weaver rails. Since these two are common in AR-15 rifles, having this range is a wise choice.
How to Choose the Best Rifle Scope for AR 15
All scopes are not the same, especially if they come from different manufacturers. This particular eccentricity results into the difficulty in choosing. Now, one factor that delimits your choice is the price. Since you are relegated only to get scopes that are within the $100 category, there is no point in looking at those models that are on the higher price scale.
But aside from this factor, what are the key considerations that you should take whenever you are going to buy a scope for your AR 15? Let's find out.
Main Tube
The tube or housing of the scope defines its quality and flexibility. Those cells that have large diameter provides adequate room for adjustments. That is important for long-range applications. Moreover, larger tubes are more durable than smaller ones. But at the same time, the bulkiness of these tubes add to their overall weight. They also require more rings for mounting, which further increases their weight and price.
Fortunately, there is no need for you to chase scopes with large tubes. You can already be versatile on the field if you have 1" range. But don't forget the ruggedness of the pipe. Ideally, the scope should have been nitrogen-purged to inhibit fogging. Also, it should have a seamless design to prevent the entry of dust, debris, and water vapor.
Objective Lens
The size of objective lens matters when choosing a scope. Fortunately, the range is pretty vast. Despite this, the most common dimensions that are ubiquitous on the market today are the 40-mm and the 50-mm models. But why the size is significant?
Well, the size of the objective lens indicates its overall light transmission capabilities. The larger the objective lens, the more significant its light transmission. The latter improves the performance of the scope under low-light conditions. Moreover, it also enhances the resolution of the optics.
But of course, there are some particular drawbacks about this. Scopes with a large objective lens should be mounted higher so that you can provide clearance between the range and rifle. But if you are going to do that, the scope-to-eye interaction would be interrupted. That is an issue, especially with AR-15 rifles. Therefore, I recommend that you should only choose units that have 40 to 44-mm objective lens.
Magnification
Magnification is another crucial factor that determines the performance of a scope. In layman's term, magnification is the ability to zoom out your targets. For me, you can fully utilize the magnification if it has the right digits. A great example of this the 3x per 100 yards rule. Specifically, you should increase the magnification by 3x for every 100 yards. Therefore, if you are aiming at 500 yards, the magnification should be 15x.
However, some skilled shooters can hit 1,000-yard targets while only using 15x magnification. Of course, for new shooters, they would need 25x magnification. But nothing is definite here. If you want a scope that has higher magnification, then you should go for it.
Reticle
The reticle of a scope is an essential component for its accuracy. The reticle gives you that "iron sight feeling" when peeking at your target. With them, you can pinpoint any objects easily. But just like scopes, reticles have different sizes. Some even come with crosshairs to further improve their performance.
When choosing a scope, make sure that they have illuminated reticles. It is a necessary feature that you are going to need if you want to survive low-light conditions. Furthermore, the illumination can prevent the reticle from washing out during daylight.
Also, don't worry if the reticle is not sharp. No reticles have been made to look extraordinarily detailed and outlined. A fuzzy reticle does not mean that your scope is not proper.
Final Verdict
If you are going to think about it, the quality of a scope directly correlates to its price. You can expect that a high priced range has better features and construction than their entry-level counterparts. It is a hard-to-swallow predicament, but you should accept it at some point.
Luckily, there are still some decent scopes for AR 15 rifles that you can find in the budget-friendly category. They are not as high as premium units, but at the same time, their performance is not shabby at all.
One good example of this is the UTG 3-9X32 BugBuster Scope. That is my best scope for AR 15 under $100. It has a sturdy construction and low-profile design that make it very functional. All the necessary adjustments are also present on this device.
If you know other cost-efficient scopes that are worthy for AR 15 rifles, then just tell me in the comment section below. I will check them out by myself!