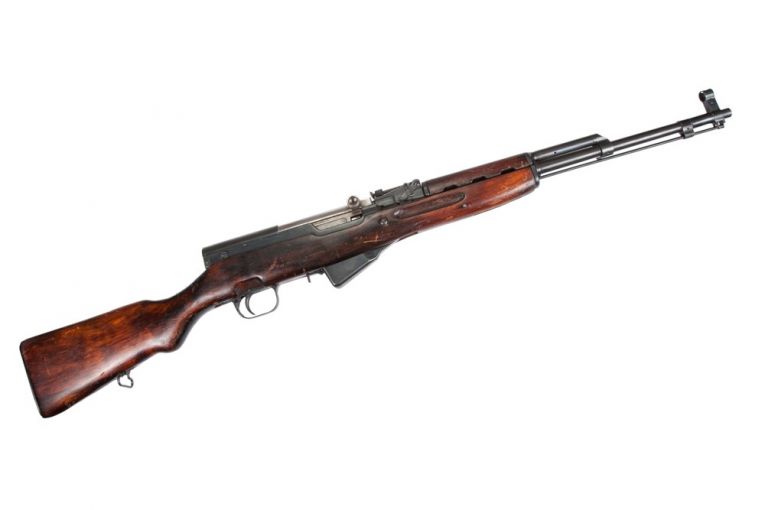 5 of the Best SKS Stock: Upgrading The Iconic Russian Rifle
It is undeniable that the SKS rifle is a famous Russian firearm. It has decent performance and design, which pretty suitable in various applications. However, the main selling points of this gun are its inexpensive price and ammunition. But of course, you should never underestimate its capacity.
More...
5 of the Best SKS Stock: Upgrading The Iconic Russian Rifle
One way or another, I can say that the SKS is a traditional rifle. Its existence today is quite amusing, considering that more modern guns are already available in the market. If you want to get an SKS, you ought to do an upgrade. An excellent approach for it is by changing its stock.
The best SKS stock will modify the default stocks of the SKS rifle. By nature, the factory stocks of SKS firearms are rugged. However, they are not ergonomic because they are heavy. Moreover, they don't have a strong defence against external elements. Therefore, changing the factory stock of an SKS is more than just a matter of preference. It is a necessity.
You can get various replacements for these old stocks. Most of the new SKS stocks are from high-quality materials that improve its usability, durability, and resistance. In a sense, changing the stock will improve the rifles' general form and functionality.
I have listed some of the best options for an SKS replacement stock. They vary in design and price. However, I can guarantee that they can give your SKS rifle a boost. Check them out!
The Best SKS Stock: Top 5 Options
If you are looking for a replacement stock for your SKS rifle, you should start with the Tapco Timber Smith. It is an excellent choice for those who want to preserve the functionality and familiarity of their SKS rifle. This one has the same design with the original stocks. However, it is lighter and proves to have a better vitality than its default counterpart.
Take note that the Tapco Timber Smith is still a stock crafted from hardwood. Therefore, you can still guarantee that handling it would never trouble you. Of course, it also has an improved appearance. It has a stunning aesthetics with its dark finish. The stock itself comes with a cheek rest to ensure the comfort of its user. A recoil pad made out of specialised rubber is integrated on the butt of the stock, too.
Furthermore, the entire stock is fully laminated so that it can resist external elements like water, dust, and chemical. It is an excellent feature that improves the overall quality of this stock. I also have to note that the Tapco Timber Smith is a guaranteed to have a precision fit. It will remain snug once you installed it to the main body of the SKS rifle.
Another SKS replacement stock that ranks almost equal with the Tapco Timber Smith is the SKS Dragunov Stock. This stock is from Choate Machine & Tool, Inc. The latter is a premium manufacturer of various replacement stocks for different rifles and firearms. Specifically, the SKS Dragunov Stock features excellent adjustability, which allows you to install it easily and quickly. The SKS Dragunov Stock doesn't require fittings for installation.
Unlike the Tapco Timber Smith, the SKS Dragunov Stock comes with a fibreglass-filled polymer. It is a durable material that has immunity from physical changes that can be induced by humidity and unfavourable weather. In application, this unique polymer is so rugged that it is practically indestructible. But of course, it remains to be a light material, which enhances the comfort level the stock offers.
The stock itself has integrated handguard. It also has a high cheek rest, too. The zero-drop at comb feature of the SKS Dragunov improves your eye relief if you are going to mount a scope on the rifle. Meanwhile, the spaces of this stock can provide up to 1 inch of pull length adjustment. When it comes to appearance, there is no doubt that Dragunov Stock is appealing to the eyes.
The ATI SKS Monte Carlo Stock is a great stock. It comes with ATI Outdoors, which is a reputable brand in the shooting community. This one is suitable for competitive shooting, big game hunts, and day-to-day applications. But despite its quality and performance, this replacement stock remains to be affordable. Therefore, it is not surprising anymore if there are a lot of SKS rifle owners who have this stock.
Specifically, the ATI SKS Monte Carlo Stock comes with a proprietary material. The DuPont Glass Reinforced Polymer construction ensures that this stock can withstand any harsh terrains. It has an absolute defence against common weather elements that could damage standard SKS stocks. It is scratch-resistant, too. The forend and grip of the stock have checkered for improved handling.
The cheek rest area of the ATI SKS has been raised, as well for user comfort. It also features a proprietary X-Series Butt Pad that significantly reduces the impact caused by recoil. The same component can lessen the muzzle lift, too, which is the primary cause of losing stability and shot repeatability. When it comes to installation, the ATI SKS Monte Carlo Stock is forgiving. The drop-in installation scrapes off the need for gunsmithing.
For those who want to take the performance of their SKS rifle to the next level, consider the Advanced Technology SKS Strikeforce Stock. It is a high-end replacement stock that can transform your SKS into a comprehensive and versatile firearm. Primarily, the SKS Strikeforce is a six-position side collapsible stock. You can either fold it flat (90 degrees) to the left. It allows you to shoot the rifle in either open or closed position.
Installing lasers and scopes would be pretty easy for this stock. After all, it has a Picatinny mount rail on its top and another three rails on the upper part of its cover. Notable, the cheek piece and the butt pad of this stock are removable. I also love the fact that you can adjust the placement of the cheek rest. That drastically improves the comfort level that you can feel whenever you are using this stock.
Same as ATI SKS Monte Carlo Stock, the Advanced Technology SKS Strikeforce Stock comes with the DuPont Extreme Temperature Glass Reinforced Polymer. Therefore, there is no point in doubting the rigidity and durability of this stock. It has a seamless construction that just resists any detriments from damaging it. It also features six swivel studs which accommodate different types of slings.
I already highlighted the quality of Tapco stocks, in particular for rifles like SKS. This time, I am going to showcase the features of the Intrafuse Stock. When it comes to adjustability, the Intrafuse is a top-tier choice. It allows you to adjust and convert your SKS to become a collapsible and quick-to-store unit. It can do this job without the involvement of permanent gunsmithing alterations.
With the said feature, the Tapco SKS Intrafuse Stock allows your SKS rifle to become a firearm capable of doing tactical applications or competitive shooting. Furthermore, the SKS Intrafuse is crafted from a glass-reinforced polymer, making it durable and lightweight at the same time. It has the same rigidity as the previous SKS stocks that I have featured.
The Tapco SKS Intrafuse is compatible with other stocks too. Even the notorious SKS Model D can work with this replacement stock (but you need to do some modifications first). All of its other components, such as the cheek rest and recoil pad, are all well-crafted too. Overall, the construction and handling of the Intrafuse Stock can improve the functionality of your SKS rifle.
Choosing the Best Rifle Stock for SKS
The stock is a crucial feature of a rifle, especially if you are looking forward to a custom build. The stock plays a huge part in the comfort and form of the user. It dictates how easily you can handle the rifle whenever you are firing it. Of course, it will eventually affect the accuracy of your shots.
I am not exaggerating when I say that fitting a wrong stock to your rifle will make the latter impossible to shoot. Well, you can force to pull it, but don't expect that you can hit anything. On the other hand, a suitable and well-made rifle can improve the performance of your favourite firearm.
Taking these consequences into account, here are some of the essential considerations when choosing a replacement stock. These factors should remain applicable even for non-SKS rifle users.
Left Hand or Right Hand
Are you left-handed or right-handed? You are the only one that can answer this question. Of course, it is essential to do so since your answer will determine the type of stock that you should choose. But surprisingly, a lot of people ignore this factor. That's a bad thing!
If you a left-hand shooter, then you must not ignore this consideration. After all, most of the rifle and firearm accessories today are for right-hand shooters. Fortunately, some models of gun stocks have custom designs for left-handed users.
The Right Stock
It is an obvious consideration. But making a mistake out of it could lead to a potential waste of money. Don't buy a custom stock for AR rifles if you are using an SKS. That's ridiculous and unreasonable. Admittedly, wrong stocks can still allow you to shoot your firearm. However, you are demeaning the full potential of your gun. Moreover, bad stocks are uncomfortable to use.
Another thing that you should take into account is the length of the action. Specifically, you have to know if your rifle has a short or long-action length. There are specific stocks that are compatible with each action-length type. You should get the consistent stock for your rifle.
Material
Of course, the main reason you want to replace the factory stock of SKS is that they are cumbersome and weak. The material of the replacement stock should surpass the original stock. Otherwise, the change would be pretty pointless. Take note that both wooden and synthetic stocks are high. Do not believe the rumours on the street that a synthetic or wooden stock is better than the other.
Stocks that come with a flimsy material will hamper the mobility and reliability of your firearm. Even if we are looking for lightweight stocks, they should still be firm and stable. It should allow your gun to be rested steadily on a platform whenever you are shooting it.
Also, it would be great if the construction of the stock includes some general defence against the weather and external detriments. Elements like water and heat can cause warping to common SKS stocks. Therefore, make sure that the stock you choose should be impervious to these detriments.
Final Verdict
An SKS rifle would do better if you install it with a proper replacement stock. The performance of this gun could double once you mount a well-crafted stock. There is no point in arguing that the factory stock of SKS firearms are already enough. If you want the rifle to be competitive, you should upgrade it. And should start with its stock.
Of course, all the stocks that I featured here have great ergonomics and construction. But for me, the Tapco Timber Smith SKS is the best SKS stock. It is the only wooden stock that I included here because of its superb durability and form. Using it is very comfortable. It doesn't hurt whenever your shoulders grind with the rifle since the buttstock has an excellent surface. It has a well-placed cheek rest, which further improves the user's convenience. Once installed, this stock can enhance the stability and accuracy of your shots.
However, I know that some of you have different candidates for this title. Therefore, you can tell me all of your thoughts and opinions in the comment section below!