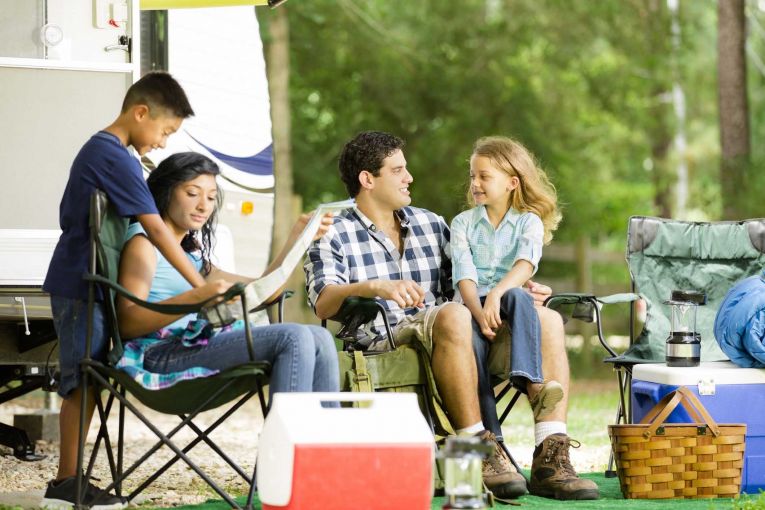 Pro Tips For Rving With Babies On Board
Recreational Vehicles are a great utility for a short or long trip with your loved ones. These trips help in building healthy relationships, enhance bonding and spend quality time with your friends and family. RVing with your loved ones is always the best experience.
One should consider all the factors while opting for RV with your family. And when it comes to including toddlers and small children, it becomes a bit tricky. Including a baby with you on your RV outdoor trip is not a bad idea. But it requires a lot of planning and transitions to your normal travelling regime. Click here for more.
In this article, we will take a look at various tips and guidelines that one needs to keep in check while having a baby on board. It will help you plan your trip in a more comprehensive and better way. Let's dive into the details now!!!
Source: Youtube
Tips And Guidelines For Rving With Babies
Babies are a bit tough to handle as they need a lot of care and attention. And when taking them along on a trip, which obviously you have to, you need to be extra careful. It requires a lot of effort and planning to brings your kids with you on a camping trip. You need to list down all the necessary items along with management of the RV interior, route planning, etc. To make it easy for you to perform all these tasks, we have incorporated some of the most basic guidelines to consider before planning an RV trip with your baby.
1. Securing the baby in a seat
Keeping the most secure seat in the RV should be the number one priority. Deciding on a safe seat for the baby also depends on the type of RV you have. In case of a towable RV, there is no need to make any changes to the car seating. But in the case of motorhomes, there are some factors that need to be taken into account. Check this comprehensive list of travel gear for babies that you will need to help make your trip a success.
Check that the seat is not in the front of the motorhome.
Remove any loose items off the seat that can harm the baby in any way.
Never use the seat that faces sideways.
Check that the seat is tightly attached to the place where it is supposed to.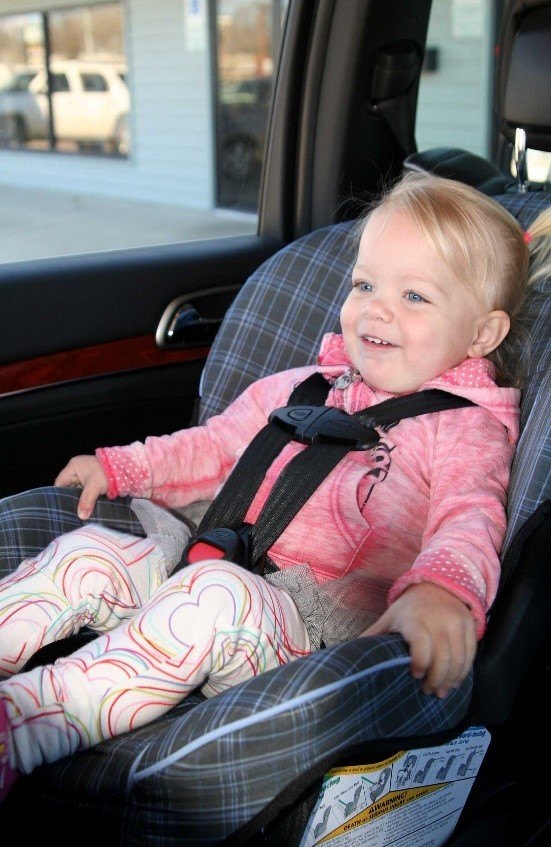 Source: Dss.sd
2. Sleeping Area For The Baby
Sleeping is the one area where you can get a little hard time from your baby. Babies get complete rest when they sleep and they never like to compromise their sleeping quality. Although they are small in size they make sure they are most comfortable while sleeping.
It is better not to take a full-size crib with you as the RV will be having a limited space. If your baby is old enough to sleep on a bed, then you should consider a collapsed travel bed. It will be an efficient space saver and also it can be folded and kept aside once you are not sleeping anymore.
Source: Pinterest
Additional Tip: If you are carrying a toddler with you, get the baby to sleep whilst the RV is moving. Kids tend to sleep more easily in a moving vehicle and you can save yourself some time and effort of singing lullabies.
3. Babyproofing The RV
Most of the RV's will have sufficient space in them for your kids to run and walk around. But you need to be extra cautious with everything around when travelling with children. To begin, take a thorough walk around your RV and check what all are the risky areas you need to workaround.
Block the areas you do not want your baby to go to. If possible, install a soft carpet for your RV. It may be an offlist item for you but believe me, it adds so much comfort for your kid. They can sit, run or play in the area and you won't have to worry about them falling on the floor.
4. Essential Baby Items
Some people think of bringing the baby on a road trip is a hectic and no good idea. But it is not true for a person who is fully prepared and has planned everything accordingly. It can be really fun to take out your kids with you on such road trips. Kids learn a lot by just watching actions and things around them.
Source: havebabywilltravel
There are certain things you need to keep in mind before starting your trip so that you can have the best times:
Get your kid a comfortable small size stroller. A good stroller is a necessity for you because you will not only stay inside your RV all the time. When you'll see a beautiful spot somewhere, you are going to go out and enjoy nature. A stroller will be a very good option as you will not have to carry your little one all the time in your arms. Even you can relax and your child will rest and enjoy in his own stroller.
If your child is only 3-5 years old then a high chair is a must for your kid. Apart from having fun at the back of RV, your kid would want to enjoy the route. Your kid should always have an option to sit and directly view the roads. Believe me, it will be the most fun part, you driving your RV and your kid sitting beside you enjoying the ride. There are some chairs available that can be strapped onto the chair, try considering them, they are real space savers.
Baby gates are the one thing you should never forget while having such trips. Baby gates are considered as the most helpful things in such trips. It will be a stress reliever for you to not constantly watch the kids not leaving the RV when it's parked.
A baby bathtub can be helpful. As most of the RV will have a stand-up shower, it may become difficult for you to get your kid to take a shower. So keeping a little baby bathtub will definitely be helpful.
A bottle brush is an important item to keep with you. While travelling you will have limited resources with you. Keeping a bottle brush will help you clean the bottle easily and will reduce the water wastage and your efforts.
5. Route Planning, Travel Short Distances
This is one aspect which is very important for you to keep in mind while travelling. Always check the maps and decide a route for yourself before you start with your adventure. Instead of using the back roads, try using known routes.
If you have a kid less than 2-3 years of age, it's better to travel to a place not very far away. Kids tend to get bored very easily. Although its an option that is very unlikely to happen. But if your child does not like the ride, he/she will start getting irritated. Once that happens it becomes very difficult to handle the situation. So if you are taking a toddler with you, try making a short distance trip.
While planning the route, try taking the route through the cities. Children love getting new experiences and they want to explore everything new they find. So if you take your RV through the cities, it will be more engaging for them. Moreover, it will also help them enhance their knowledge.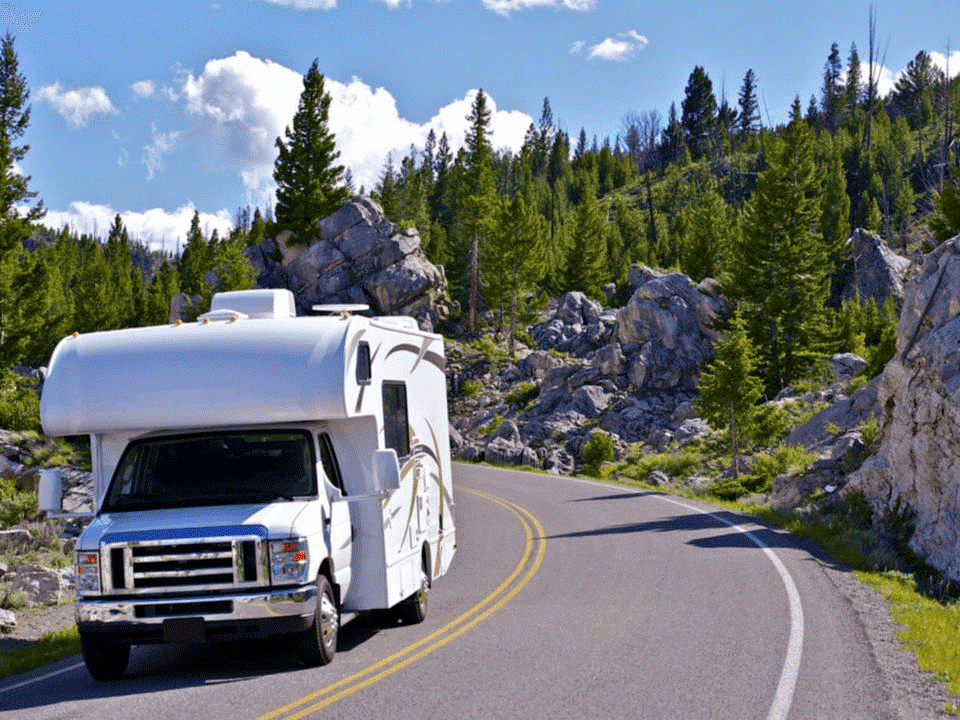 Source: Tripsavvy.com
6. Changing The Interior Layout
You can do various changes in the interior of the RV to benefit yourself in many ways. As mentioned above, you may install a soft carpet RV so that your kid can freely roam and fall inside the RV. Also, you can remove the couches inside the RV to fit the crib for your child. If you will check online, there are many accessories available which may help in little things you do with your kid. Just check the accessories for an RV in a retail store or online and pick the things that you think may help you.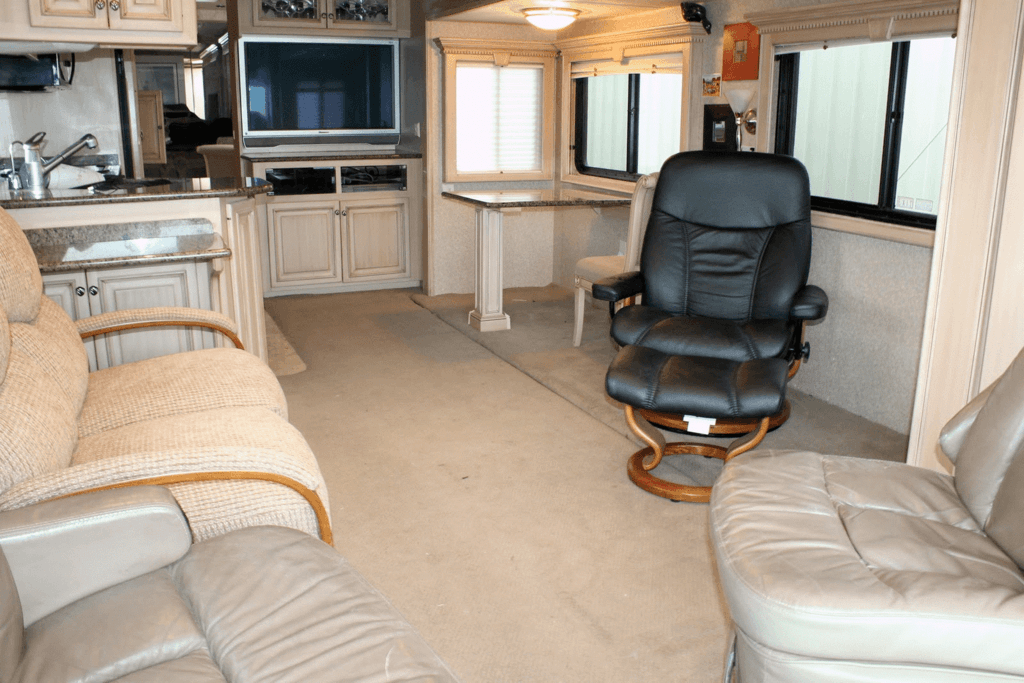 Source: Countrysideinteriors
7. Playing And Training Items
Going on a trip in an RV is as adventurous as it sounds. To get the most of the experiences, you should carry a variety of things with you for playing and to train your child. It's not just about travelling all the time but about stopping at a number of places to expose yourself and the kids with nature. You would be teaching your kid to hike, swim, bicycle all over the country. Seeing your kids doing these activities will bring a sense of joy and happiness within you.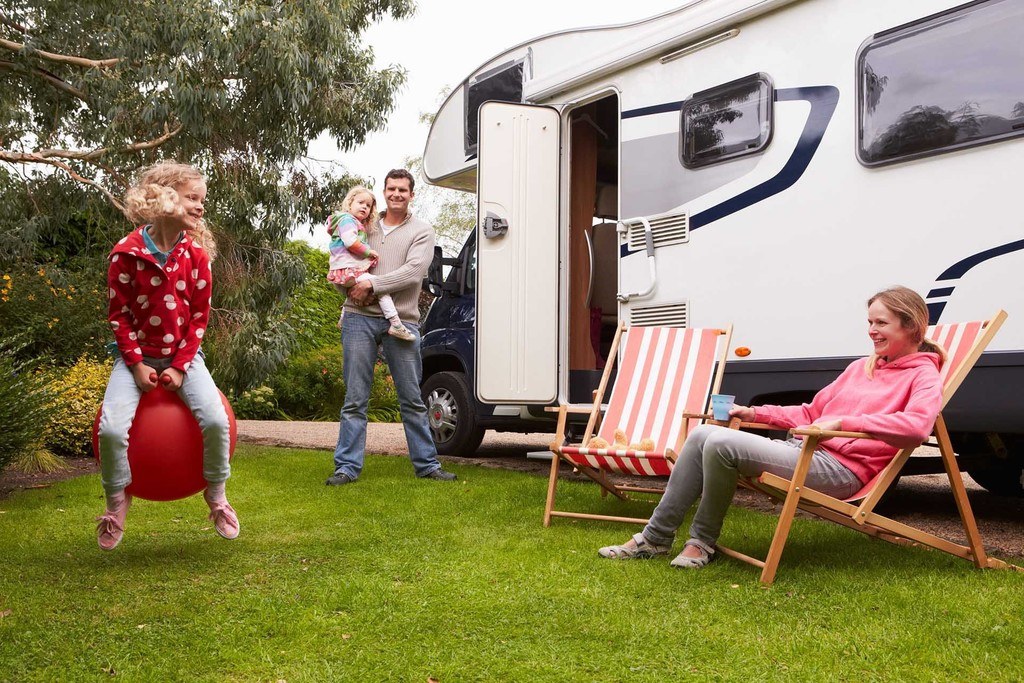 Source: familyvacationcritic
8. Keep The Baby Happy
The most important aspect of Rving is that you want to have a wonderful time for your family. It's only possible if your kid is having a fun time in the ride. Kid happiness is directly proportional to your happiness. So try doing all the things that make your kid stay calm and excited. Remember, more the kids find the excitement, more the number of memorable moments for you.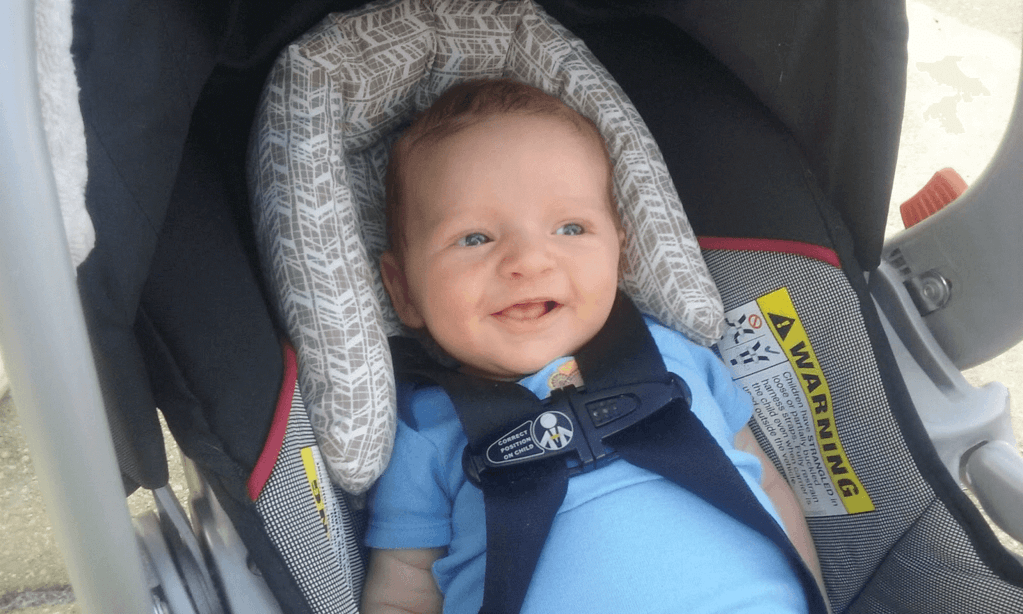 Source: 4.bp.blogspot
9. Avoid Distractions (Sound, Jerks, Sunlight)
If you just manage a few things correctly, you will not face any troubles throughout your journey. RVs are designed to give you a comfortable experience at all times but a smooth drive will help you have a no trouble journey. Avoid getting jerks on the roads as it may bring discomfort to the child. When outdoors make use of caps for children to save them from the scorching heat of the sun.
Little kids often get irritated with loud noises around them. So avoid playing any heavy metals or rock music all the time. Play music which engages your child and brings a smile to his face.
10. Bathing Area For The Child
RVs have limited space and all the necessities are needed to be fitted inside, so most RVs will have a stand-up shower. It definitely becomes very difficult for you to make your kid shower in there. So some people make a little separate bathing area for the child. A better option is to take along a little bathtub with you for the kid. Prefer buying a plastic bathtub as they are easy to carry around and you can even take them out when relaxing outside.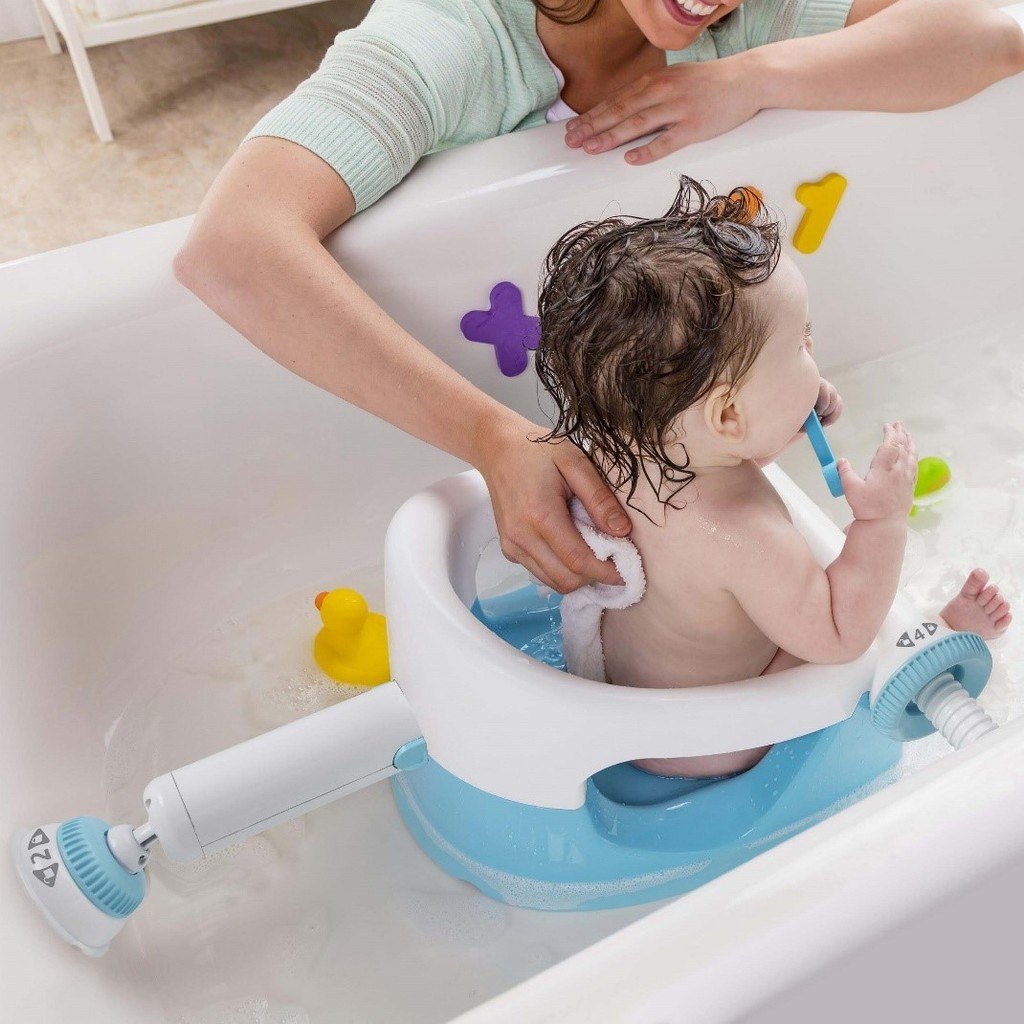 Source: Walmart
Pros of Rving With The Babies
The most significant benefit of travelling with your baby is that you get to spend a lot of time with your kids.
You and your children together can experience so many adventures along the way.
Rving is not just about fun but it helps your kids learn more and increases their mind's creativity.
It is the best way to create a lot of memories that last forever.
If you have a family at the other end of the country, then you can visit them. The long trip will be fun for your family and you would be able to meet some of your relatives too.
If you are fond of seeing new places, then RVing is the best option for you. It's not only adventurous and fun but also very economical as compared to the other modes of travel.
Travelling with babies is certainly not the most difficult task to do. It may be challenging at times but if you plan everything accordingly, you are definitely going to have some fun time. Planning is the most important part if you want to travel on open roads without worrying. Kids love to explore every aspect of their life and when exposed to new places and people, they just love it.
RVing is the best option for your family to spend some quality time together. You will not only enjoy the roads but the memories you will create will be with each one of you forever. We have mentioned every possible information that you will need on the go, but still, you should learn the experiences of other families. Personal interactions always help you understand more.
Source: https://www.tripsavvy.com/
So start planning your RV trip now and take your family to experience an abundance of fun and adventures all over the country. Have a safe and memorable journey. Cheers!
About Author: Kazi Mohiuddin
Kazi Mohiuddin is a Marketing Manager of TOW-MAX Trailer Parts. TOW-MAX Trailer Parts is the leading trailer parts and accessories supplier in China. Kazi is passionately working for Digital Marketing and SEO strategy. You can find him on LinkedIn and Facebook.)