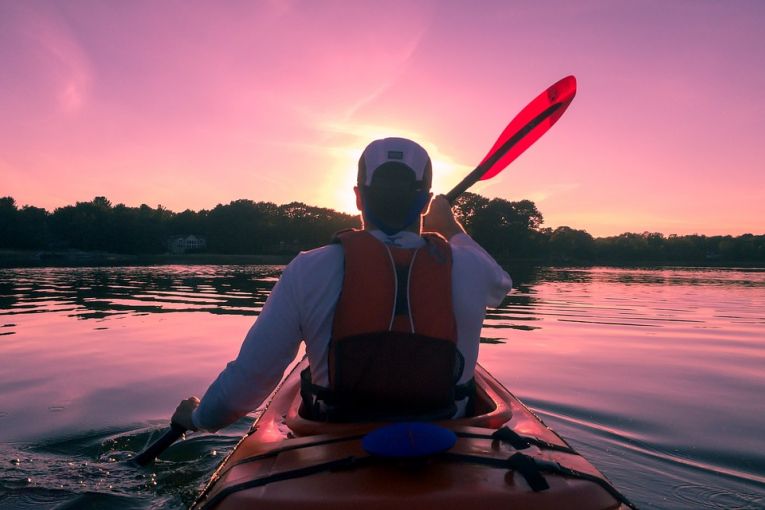 Tips for going on kayaking for first time
Kayaking is one of the best experiences for people who want to explore nature. People are becoming increasingly aware that self-love helps them heal. What better way to show self-love than spending quality time with yourself? Kayaking is one of the best experiences that you will ever have exploring nature. It is exciting to spend time in the water watching the water shine while exploring the lake. You can also go kayaking with your friends and family for a blissful experience. However, people even get intimidated when they do not know how to kayak. Tips for going on kayaking for the first time will help you a lot.
There are a few tips that you can follow and things you can carry to make your kayaking experience better. If you have a friend who knows how to kayak and has proper kayaking gear, then you are sorted. When you are getting started with your kayak journey, you do not want to spend money buying a kayak. It seems simple to jump in the kayak cockpit and start paddling. However, it is not as simple as it looks. You do need a lot of practice and flow to become an expert in the field. We have some brilliant tips for you which you can use to become a kayak expert.
Tips for going kayaking
If you are going to kayak for the first time, you do not need to buy a kayak. You can simply ask your friend or someone you know to lend you a kayak. However, you must also ask your friend with kayaking experience to teach you some basic moves. If none of your friends have a kayak, then you can also rent a kayak. However, you must not invest in one if you have not developed an interest in the field yet.
Sign up for a class
How to sit on top kayaking for beginners? People who have recently developed an interest in kayaking must invest in some sort of class. Let's say you went kayaking with your friend and you enjoyed every bit of it. However, you do want to learn kayaking professionally because you do not know how to balance. There are a lot of introductory kayaking classes available. You can go to your local kayaking resort and take information about it. Many talented instructors make you learn the basic techniques. The initial class helps you to know first time kayaking no swimming technique.
YouTube tutorials
YouTube is a great platform, and it has information about everything possible. If you have a hard time enrolling in a class for kayaking lessons, you can learn basic YouTube techniques. Of course, you will not learn any practical skills, but theoretical information is the first step. You get inflatable kayaking tips for beginners as well. YouTube is a versatile platform with thousands of videos. You can also buy online courses for in-depth information. On the other hand, a kayaking tour is also a great way to enhance your kayaking knowledge.
Proper gear
You have to wear proper gear when going kayaking; otherwise, you can hurt yourself. The essential things you need for kayaking are ice fishing boots necessary to protect your feet from any potential injury. On the other hand, you also need a bilge pump, spray skirt, and proper coat. The appropriate clothing for kayaking is swimming gear. Do people often wonder what to wear kayaking? It is essential to make sure that you are not wearing cotton or non-binding material. If you do not wish to tan yourself, then a long-sleeved shirt. You can also wear a weather-resistant jacket if there is any kind of rainfall.
Personal care kit
If you are kayaking in the day, you must wear an SPF. It is crucial to protect your skin and wear a hat to avoid tanning. Tanning is acceptable, but you should not take risks as skin cancer is common. It would be best to carry a small pouch with you, which you can use in an emergency. A few bandages, indication whistles, water bottles, and lip balm are necessary to avoid inconveniences during kayaking trips. It would be best if you also keep a dry bag with you to put your wet clothes.
How to adjust your kayak?
You can find kayak guides for beginners everywhere; it is essential to read those guides as well. They have a lot of information on how you can adjust your kayak. However, you can also watch the kayaking tutorial to know how you can gain control. You must firmly place your butt on the kayaking cockpit. And push yourself against the back. You must push your feet to the front and bend your knees slightly. It is essential to press your knees together to establish the right balance.
The right way to hold a kayak paddle
People find it extremely annoying when they do not have enough control over kayak paddles. Paddles are everything when it comes to kayaking. However, most people struggle with it, especially if they are beginners. If you are looking to sit on top kayak tips, then you must learn to balance yourself. We have mentioned above how you can adjust yourself on top of a kayak.
To hold the kayak properly, you should first hold it above your head and then keep the kayak paddles on the front. You have to ensure that the kayak paddles are aligned with each other appropriately. If they are not aligned to each other, then you must align them. The paddle's longer side must be on the boat, make an O with your thumb, and gently hold the paddles. You must make a feather-light stroke with the paddle to move forward.
Conclusion
If you want tips for going on kayaking for the first time, you must look at the information above. The right approach to learning kayaking is gaining enough knowledge. Learn all the logic behind movement and flow. Once you learn to balance yourself, you must know about the paddle and how to work around them. With consistency and patience, you will become a kayaking expert.