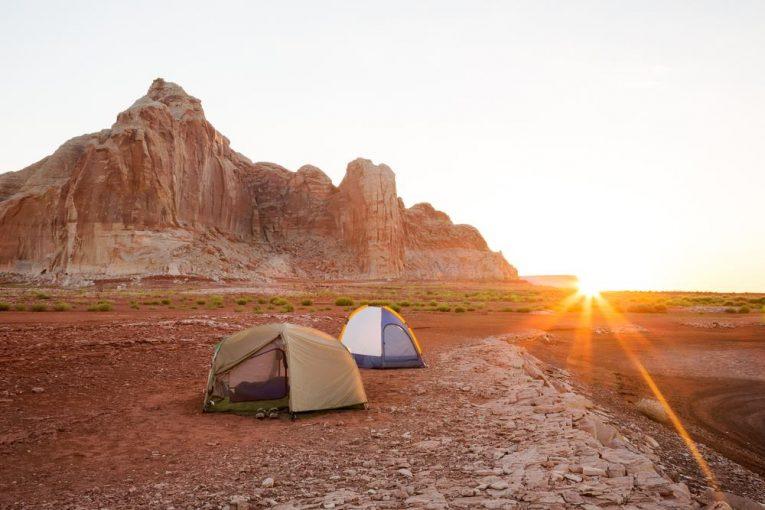 9 of the Best Camping in Utah, #6 Will Amaze You!
The Great Outdoors
Spring is almost upon us and camping season will quickly follow. There's no better time to enjoy the great outdoors! In fact, what better place to enjoy the sun and mountains than the great vacationland that is Utah - arguably one of best camping locations in the west! Hence, we've compiled for you nine of the best camping in Utah. Ready your bivvy sack.
Utahns will boast of their state's myriad of campgrounds, national parks, and scenic backpacking trails! And they're not exaggerating. Over 7,000 campsites await you, with locations in the high mountain ranges, canyons, open deserts, and remote flatlands.
More...
In any case, make sure to get those reservations or camping permits early! Rightly so as many of these prime camping areas fill quickly when the season begins!
Admittedly, the best camping experience is subjective. For instance, a bare and unimproved campsite with little or none of our modern amenities will be perfect for some. However, this particular campground may be too primitive and isolated for those who prefer running water, modern plumbing (toilets!), and electrical hookups.
Therefore, our list of the best camping in Utah will vary in conditions, amenities, and notable geographic features. Consider, too, these essential factors as you choose your next camping getaway!
9 of the Best Camping in Utah
Utah Map Overview
Here's a handy guide to the locations of our nine favorite camping grounds in the Great Salt Lake State.
9 Best Camping Areas
#1 Spruces, Big Cottonwood Canyon
At 7,500 feet in majestic Big Cottonwood Canyon, the camping spots at Spruces will make you feel like you're in another world. What's more, Salt Lake City is only around 10 minutes away! Hence, this camp spot is perfect for the quick getaway as you immerse yourself in the green forest of aspen and spruce trees!
Location:
Campsites & Features
Around 100 sites for tents and RVs
Group camping sites
Various hiking trails
Fishing at Big Cottonwood Creek
Beautiful lakes and streams
High mountain peaks
Amenities & Services
Drinking water
Flush Toilets
Baseball field
Volleyball Court
Horseshoe Pit
Picnic Areas
Parking Area
Grills
Full hookups
Trash Collection
Restriction
The USDA Forest service will impose a fine on those bringing domestic pets into the Canyon
Also, the USDA Forest service prohibits off-road vehicles in the canyon and amplified music on campgrounds.
#2 Tanners Flat Campground, Little Cottonwood Canyon
Another quick getaway (6 miles away) from Salt Lake City is Tanner's Flat at Little Cottonwood Canyon. Hikers and bikers will enjoy the many trails throughout the canyon, especially the one leading to the beautiful alpine lakes. Most noteworthy is the quarter mile hike to beautiful Cecret Lake in the Albion Basin.
Location
Campsites & Features
Tanner's flat has 30 single campsites, three doubles, and four group sites
Amphitheatre
Scenic hikes to alpine lakes
Bike trails
Fishing off Little Cottonwood Creek
Access to the Albion Basin and Cecret Lake
Amenities & Services
Water and flush toilets
Picnic tables and campfire rings
Grills
Volleyball courts
Trash collection
Restrictions
Since Tanner's Flat is a watershed area, the USDA Forest service does not allow amplified music, off-road vehicles and will penalize those bringing pets.
Most of the campsites can not fit large RVs and trailers.
#3 Rendezvous Beach, Bear Lake
Rendezvous beach along Bear Lake is an ideal, and quite the romantic site for campers who enjoy water activities! Make sure to reserve your spots well in advance for this camping favorite near green-blue waters of Bear Lake! What's more, Rendezvous Beach offers both primitive campgrounds and also those that feature modern amenities.
Location​
Campsites & Features
Over 120 single campsites and 9 group sites
Large beach area
Waterskiing
Swimming
Scuba diving
Sailing
Birdwatching
Fishing
Scenic views
Amenities & Services
Drinking water
Handicap accessible
Concessions
Comfort station
Full hookups
Hot showers
Parking Area
Pet-friendly
Picnic Areas
Pit toilets
Restrictions
Dogs must always be on a leash and are you must keep them from the beach areas.
All vehicles must stay on asphalt, and only one extra vehicle per site is allowed.
#4 Watchman Campground, Zion National Park
Admire the grandeur of the Watchman at Zion National Park at the Watchman Campgrounds that are open year-round! You will be surrounded by picturesque sandstone peaks and cliffs as you bask in the sun or shelter in the shadow of the eponymous peak.
Location:
Campsites & Features
Over 170 campsites
Group sites accommodate about seven up to 40 people
Hiking trails of various intensity
Amphitheatre
The Virgin River adjacent to the mountain range
Amenities & Services
Drinking Water
Flush toilets
Electric hookups
Bus stop
Picnic Area
Parking Area
Restriction
The Zion National Park advises the public of the high number of tent caterpillars present during the April and May, as well as ants in July and August. Consider this advisory with some forethought as the park prohibits insecticidal treatments.
No generators
There are particular restrictions on campfires, such as gathering firewood.
No laundry or shower services
#5 Goblin Valley State Park
Vast, deeply-colored, and sun-soaked, Goblin Valley State Park is reminiscent of Mars complete with unique rock formations. You'll be able to roam freely through the park. This site is perfect for the adventurers of all ages! However, it can get quite hot during the summer months so make sure to bring some shade and sunblock!
Location:
Campsites & Features
Two Yurts, one group site, and 24 singles campsites are available
Slot canyons
Unique rock formations
Hiking trails with majestic views
Mountain biking
OHV trails
Landscapes ideal for photography
Amenities & Services
Drinking water
Flush toilets
Hot showers
Dump stations
Handicap accessible restrooms
Pet-friendly
Vault toilets
Sewage disposal station
#6 Devils Garden Campground, Arches National Park
Arches National Park has over 2,500 unusual rock formations and most likely has the most number of natural sandstone arches in the world! The perfect place to view many of these sites is the campgrounds in Devils Garden as it is deep in the heart of the park. Also available are various trails at all levels of intensity as well as guided tours.
Be sure to make those reservations for this very popular park!
Location:
Campsites & Features
Fifty-one sites, including two group sites and one handicap-accessible site.
Wildflowers and cactiInnumerable hoodoos (natural rock spires and fins)
Various hiking trails and tours
Perfect scenery for photography
Amphitheatre
Amenities & Services
Drinking water
Flush toilets
Handicap-accessible sites
Picnic tables
Campfire rings
Firewood available
Restriction
No RV hookups available
No showers
#7 Bryce Canyon National Park
Another park famous for its natural sandstone spires is Bryce Canyon National Park at an elevation of 8,000 feet in the Colorado Plateau. With its impressive rock formations, sweeping vistas and summer wildflowers, the campgrounds at Bryce Canyon are the places to be.
Location:
Campsites & Features
The North Campground has over 80 sites for tents and RVs, and 13 others especially for RVs
On the other hand, the Sunset Campground has 20 sites for tents, one group site, and 80 sites for RVs & tents.
Numerous crisscrossing trails and differing levels.
Consider the Sunset campground for the best trails.
Amphitheatre
Birding
Horseback riding
Stargazing
Wildlife viewing
ATVs
Amenities & Services
Drinking water
Flush toilets
Grills
Picnic tables
General Store and gift shop
Laundry services
Handicap accessible picnic areas and trails
Firewood is available
Tours and educational programs
Payphone services
ShowersTrash collection
Lodging
Dump station
Restriction
The park limits each campsite to 10 people, with no more than six adults per site
No hookups available
The park prohibits portable showers, gathering firewood, and reserving blocks of sites for larger gatherings.
#8 Lone Rock Beach, Lake Powell
For the campers and hikers who prefer the refreshing break from society and modernity, Lone Rock beach provides the perfect escape. Retreat, rough it out and reconnect with nature in this primitive, yet beautiful, beach camp location.
Location:
Campsites & Features
Open primitive camping
Fishing
Kayaking
Swimming
Breathtaking sunrise and sunset
Amenities & Services
Flush toilets and showers available only at Information Center
Outhouse toilets located near the beach
#9 Antelope Island, State Park
Another State Park perfect for the retreating camper eager to refresh his mind and body is Antelope Island – the largest in the Great Salt Lake. The seven-mile road from the mainland to the island will feel like traveling through time and going back to man's simple and primitive roots. What's more, you'll be able to share your time with the roaming herds of sheep, mule, coyote, bison, hare, bighorn, and others mammals.
Location:
Campsites & Features
52 campsites
Boating, paddling, and swimming
Hiking and picnicking
Horse Camping and horseback riding
Educational programs at Visitor Center
BikingVast wildlife viewing
Island trails
Amenities & Services
Vault restrooms
Drinking water
Hot showers
Parking
Pet-friendly
Picnic tables
Sewage disposal
Conclusion
There you go! Our top nine best camping in Utah! Have you got your camping equipment, tents, sleeping bags, hiking and other outdoor gear ready?
Our favorite site is, undeniably, underneath the grand Watchman mountains at Zion National Park. A beautiful camping area complete with magnificent scenery, mountain ranges, wide open plains, and cloudless skies full of stars during the evening.How about you?
Which of the thousands of scenic camping spots is your favorite in the Great Salt Lake State? Let us know!