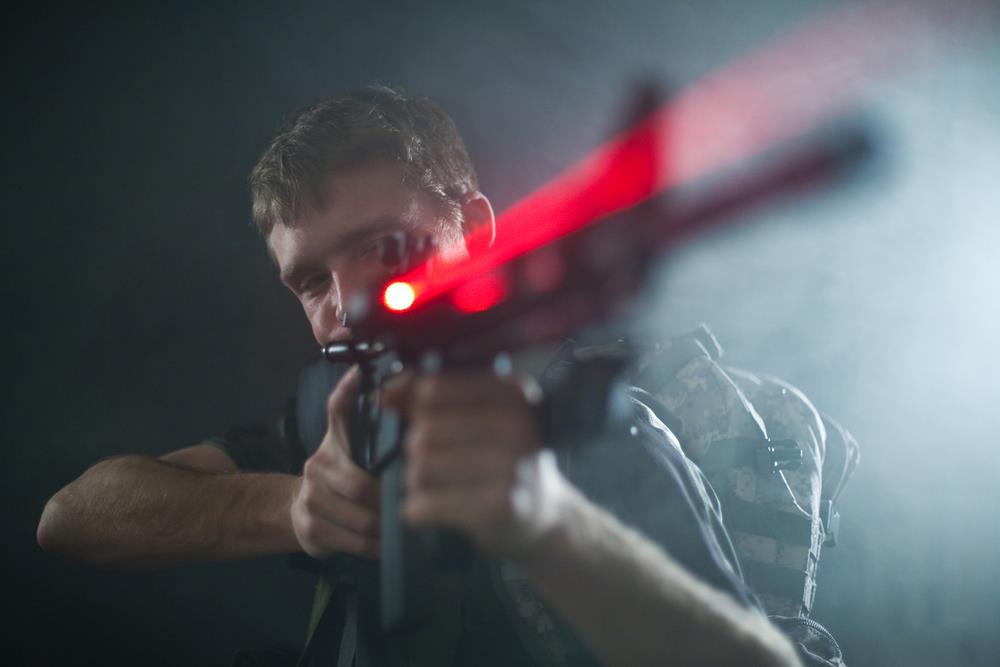 The Best Laser for AR 15? Here It Is!
Do not ever think that an AR15 rifle is already enough. Yes. It is true that this gun is precise and powerful on its right.
More...
However, such capability is still insufficient when it comes to big games and fast hunts. In any given condition, the rifle should be able to perform. That's why there is always a need for you to get the best laser for AR 15.
Some people think that a scope works better than a laser. Well, it is a statement that is hard to debunk. After all, the purpose of these two devices is to aid your aim. In fact, we advise that you get them both.
But it low-visibility situations, a laser works best. You should know that most scopes will never survive in conditions that there are no available light sources.
In this article, we will feature all the top options that you can have for this device. Their price and design vary. However, you can guarantee that their performance will satisfy you. So what are you waiting for? Read on!
The Best Laser for AR 15? Here It Is!
Things to Consider Before Buying a Laser Sight
Choosing a laser sight for your rifle is not an easy task. It still involves meticulous assessment of the device. Specifically, you have to pay attention to its overall build and design.
Moreover, you also have to understand its mechanism and how it can improve your accuracy in the field. Here are the things that you might want to take into account:
Red or Green Laser
There are two variants of laser sights that you can get today. You can either prefer a green or a red one.
But you see, the color is more than a show of aesthetics. Particularly, a red laser sight is more durable than a green laser. It also has a cheaper production. However, the biggest difference between these two lights is their performance.
Notably, a red laser can work in conditions where a green light won't. Its operating temperature is around 15 to 120 degrees Fahrenheit. Meanwhile, a green laser works only between 40 to 100 degrees Fahrenheit.
If you are living in cold area, a red laser is the best choice. Moreover, the simple design of a red laser makes it more energy-efficient than its counterpart.
The only time you will prefer a green laser over red laser is when you usually have daytime applications.
After all, you should know that green light is near the middle of the visible part of the light spectrum. Specifically, the distance is around 532 nanometers. Meanwhile, a red light has a range of 635 nanometers
This is the reason why other light colors can easily disrupt red light.
A red laser has visibility of up to 30 yards during the daytime. But a green light can be visible up to 100 yards. For target shooting purpose, the latter is the most preferred option. After all, you practice your aim during the day, right?
Battery Life
The lifespan of a laser sight is dependent on its battery. You cannot expect that it will last as long as you want to. No matter how good a laser sight is, if it doesn't have a large juice tank, it would be still insufficient.
As we mentioned earlier, a green laser sight consumes more battery than its counterpart. Therefore, you have to consider your needs and see which of these laser colors will benefit you the most!
Reliability
Target shooting is not all fun and games. You are using an AR15 rifle, which is a pretty powerful arsenal.
Therefore, you need to make sure that the laser sight can withstand its recoil. Moreover, you have to assure its durability as well. It must withstand harsh terrains and weather conditions.
When it comes to construction, a red laser is stronger than a green one. You should know that most of the green sights have delicate bodies.
If you are not careful in choosing, you might end up getting a flimsy one. And that's not a great thing for you and your money as well!
Best Laser for AR15: Features, Performance, and More
We already covered the basics of a laser sight. This time, we will elaborate the features of our listed AR15 lasers. Here are they:
The Streamlight 69261 is one of the most innovative laser sights on the market today. It is a 2-in-1 product, which offers a bright tactical flashlight and red laser light. Therefore, it is an excellent choice for those who loves to do nocturnal hunts.
The versatility of this device is quite amazing as well. It has a special mounting system that can accommodate various types of weapon.
But that is not the end of the intuitiveness of this laser sight. Specifically, it has a snap-on interface that prevents your hand from having contact with the muzzle while you are mounting and removing it.
Meanwhile, you can guarantee that the body of this device can withstand the harshest of conditions. The 6000 series aircraft-grade aluminum body can protect the laser from extreme temperatures and drops!
When it is on the field, the Streamlight 69261 is indeed reliable. Specifically, the reach of the laser is indeed impressive. It can clock targets on great distances with maximum precision. The battery life of this device does not lack either. Therefore, you can use it on long durations. It is an excellent accompaniment for your nightly hunts.
Best Overall AR 15 Laser​
Pros:

Cons:

Extremely durable
It has a long battery life
The combination of flashlight and laser light make it suited for tactical applications
Easy to mount and detach
Comes with windage and elevation adjustments

Doesn't work well on daytime
It is somehow heavy
The Ade Advanced Optics Tactical comes in two versions: red and green. Therefore, you can freely choose which of its model fits your need.
If your budget permits, you can get both. Don't worry. It is a sound investment. After all, the quality of this device is almost equal to the Streamlight 69261.
This particular laser sight has a unique mechanism that allows it to be compatible with various types of guns. The mount is easy to access, which enables easy removal and attachment.
Noticeably, this laser is a combination of steel and aircraft-grade aluminum. Therefore, you can assure that its rigid and durable from the get go. Despite this, the laser remains lightweight. Since it is a red laser, it has a long battery life as well!
You will just love the performance of the Ade Advanced Optics on the field. The device is not that bulky.
Therefore, your control in the gun will never deter. It target acquisition is never flimsy. Once you can see your objective, just aim this laser towards it. You can guarantee that it can travel great distances without drops in visibility.
Best for Durability and Stability​
Pros:

Cons:

Long battery life
Windage and elevation parameters are still present
The construction complies with FDA safety standards
The laser can simultaneously activate with the flashlight
Durable and rugged construction

The laser sits lower than the bore axis of the gun
There is a latency in the toggling
If you are looking for a green laser, then you should get the Sightmark LoPro. This one is one of the finest green laser sights on the market today. The aim of the laser is very reliable. It doesn't miss a spot on your target.
Moreover, the durability of this device is another thing that you should appreciate. It can work on harsh terrains and can repel external detriments like heat and cold.
However, the best-selling feature of the Sightmark is its low profile design. It is barely noticeable. And such capability is very beneficial to tactical operations. Even in hunting games, the inconspicuousness that this laser sight has is a huge advantage!
Its visibility that it provides on daytime is way better than other green lasers. Therefore, getting this sighting accessory on your AR15 is something that you won't regret.
Best Low Profile AR 15 Laser​
Pros:

Cons:

Low profile design
Sturdy and weatherproof constructio
Smooth operation
Comes with a Weaver mount
Windage and elevation adjustments are present

Larger and heavier than you expect it
The reach of the green laser is not that far
The Truglo Micro-Tac Tactical is another green laser that you should not miss. The laser that it produces is considerably stronger than the Sightmark Pro. It is bright and doesn't get "eaten" by the daylight.
Moreover, the design is pretty intuitive as well. The device automatically shuts down after five minutes of inactivity. This is an excellent feature, considering that most green lasers have power consumption issues.
Mounting the Truglo Micro-Tac Tactical on your rifle will not break you any sweat. It has a smooth and rigid design that makes it use a lot easier than most of its competitors.
Just take note that this device has a compact design. Well, it is not exactly a deal breaker. But some people seems to prefer a laser that they can "feel." Still, it is undeniable that the Truglo Micro-Tac is an excellent laser sight.
Best AR15 Laser for Battery​
Pros:

Cons:

Durable and rugged body
It has a unique mounting system
You can easily remove it
Comes with an automatic shutdown feature
Can fit on various gun types

Elevation adjustment is too sensitive
Zeroing this laser is quite hard
For the price, nothing just beats this green laser system by Ozark Armament. It is an excellent choice for those who are currently tight in budget but are looking for high-quality lasers.
Specifically, this laser sight has quick target acquisition, thanks to its specialized rifle platform. It is also lightweight but durable. It has an aluminum body designed to overcome detriments and other external deterrents.
We also love that this laser sight can withstand even the strongest recoil. It comes with reinforced and redesigned electronics to make sure that its system won't flutter every time you are taking a shot! It can also fit on various types of guns.
Therefore, its versatility is not that limited as what other people are thinking. Notably, this laser system has a compact and low-profile design as well.
Best AR15 Laser for the Price​
Pros:

Cons:

Affordable
Comes with a barrel and rail mount
It activates via a remote pressure pad
Surprisingly sturdy and durable
Lightweight and slightly compact

The head of the laser doesn't lock up consistently in place
Battery issues
Final Verdict
Overall, nobody can just consider that a laser sight is just an optional accessory. This statement is especially true if you are using an AR 15 rifle.
Aside from the scope, a laser sight will double your chances of making clear and successful shots. It is a good investment, considering that it doesn't cost too much. Moreover, your versatility in the field improves with this tool.
We already mentioned that the Streamlight 69261 is the best AR 15 laser. The features and capabilities of this device are impressive!
But of course, there are some other options that you can still consider. Just examine which one of them can benefit you the most!
Moreover, don't forget to follow our guide whenever you are shopping for this device. There are times that you might want to explore other options.
If that time comes, the guidelines that we gave will save you from getting a bad unit. Not only it can save your money, but it also saves your time in choosing.
Did you learn from this article? Which of these laser sights do you like the most? Tell us your answers in the comment section below!