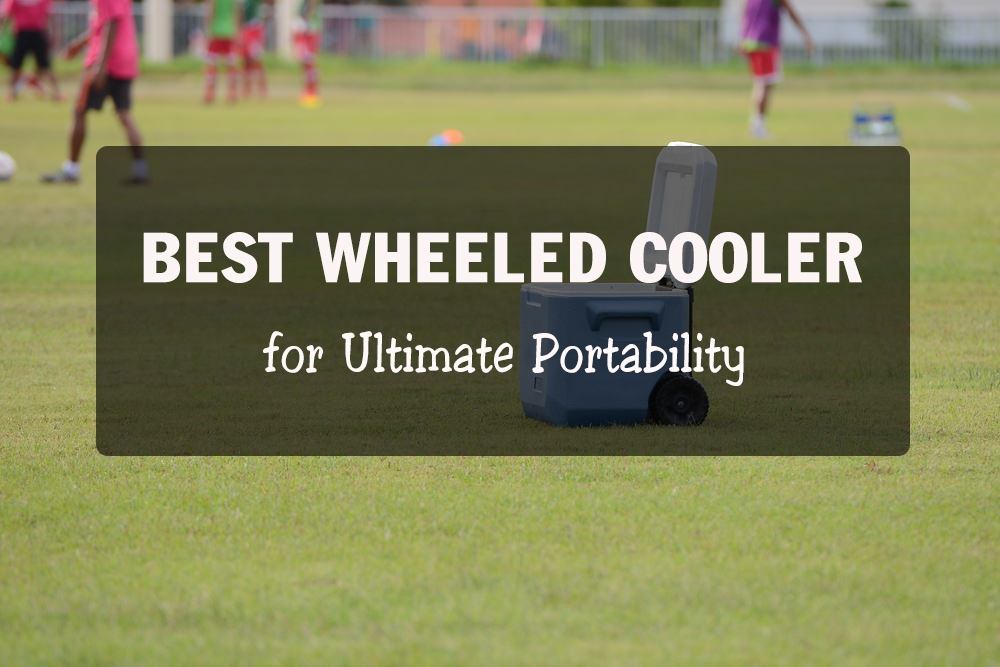 5 of the Best Wheeled Cooler for Ultimate Portability
There's nothing like a cold drink on a hot summer day, be it the beach, the park, or by your camping tent as you take in the magnificent views of nature. Surely, you would know the value of a cooler chest. Also because there are few things worse than a warm beer or soda, you'd keep your best cooler filled with your favorite beverages nearby. What better way to travel with cold drinks, or even fresh produce, meat, and food, than the best wheeled cooler!
More...
By the way, the cooler box has become as ubiquitous to the traveling group of families or friends as the refrigerator to any home. A downside, though, to the many benefits of a cooler is how difficult it can be transporting it from one place to another. From the trunk of your car to the beach, for example. Even more so if you're carrying food and drink for a large group of people, which means a bigger and heavier cooler box. This concern is what the best wheeled cooler seeks to address, hence keeping your beach, park, as well as a camping experience a breeze.
Take a look at the top five best wheeled cooler that we've compiled for you; then you'll be able to beat the heat anywhere, anytime! Once you find the perfect wheeled cooler, then you'll be able to put your feet up (on that sturdy cooler!) and relax!
Choosing the Coolest Cooler
The best cooler should be so excellent that you'd look for excuses to go out, party with friends, and enjoy the outdoors so that you can use your awesome cooler. However, many coolers on the market, sadly, do just the opposite. Additionally, Non-wheeled coolers are massive and can be a hassle to transport. Other coolers are not well-made and flimsy.
Moreover, the saddest of these sad cooler stories is those inferior coolers that can't even keep drinks cold beyond several hours. Hence, instead of letting you enjoy traveling and camping, you're left there regretting the cooler you have. Therefore, we're here to help you with that. No, not to assist you with your sad cooler, but to help you in choosing the best one.
So, what makes a great cooler? To find out, let's take a look at the cooler's various designs, as well as the things you need to consider as you choose your next cooler!
Where Can I Use My Wheeled Cooler?​
With the best wheeled cooler, the possibilities are endless. Where you go, you're wheeled cooler will go, too! All in all, it can be on:​
Your next vacation or holiday as well as a day at the beach or park
On your next trip whether it be fishing, swimming, camping, hiking, and the like!
Barbecues in your backyard
Outdoor concerts and sports events
The Different Types of Wheeled Coolers
There are three main types of wheeled coolers. These categories correspond to the material making up the cooler. As you may already know, coolers keep things fresh through insulation. This process is responsible for keeping interior temperatures low for as long as possible. Hence, for further low temperatures, you would add ice or ice packs to the cooler beside the food and drink.​
Plastic Coolers​
Coolers made out of sturdy molded plastic are among the most common portable coolers on the market. In contrast to those made out of fabric, plastic coolers are stronger and more durable. Also, these kinds of coolers are the better choice when you need to keep a significant amount of drinks and food cool for extended periods of time.
Since the bulk of these coolers are large oversized, durable wheels and long retractable handles will make towing and transporting these models easy.
Moreover, many plastic coolers feature a water release plug for easy disposal of melted ice. So, instead of tipping a massive cooler to let go of some of the water, just open the plug, and you're ready to go again!
Fabric Coolers​
It is good to note that fabric coolers also come in wheeled variants. Additionally, retailers refer to these coolers as insulated cooler bags. In contrast with think plastic, these coolers are of a durable fabric or synthetic material which are generally with foam lining. The foam layer, as well as the canvas or woven polyester outer layers, serve as the insulating agents to the food and drinks inside.
Fabric coolers are perfect for carrying fewer items, such as packed lunches and beverages for a smaller number of people. Additionally, many fabric coolers are collapsible making them even more portable! Another usual, yet a great feature of fabric coolers are their extra pockets that can hold plates, eating utensils, napkins, and other outdoor picnic needs.
Apparently, fabric coolers are not as robust nor will they keep food and drink as cool as plastic coolers. However, due to their light weight, handy pockets, and collapsible nature, they will be perfect for your shorter trips.
Metal Coolers​
It shouldn't come as a surprise that metal coolers are the toughest among the types of coolers. They're also on par with plastic coolers when it comes to insulation. However, due to metal's natural weight, these kinds of coolers are heavier and are not the best at portability or travel.
Conversely, metal coolers perform wonderfully in backyard or patio settings. In fact, a metal cooler at the neighborhood barbecue will make you the star.
However, since we're focusing on portability, we won't be including metal coolers in our top five.
The Benefits of Coolers on Wheels
Think of a regular cooler as a full and heavy cardboard box while a wheeled cooler as a rolling luggage bag. Which would you rather take with you on a trip or flight? Exactly. Therein lies the inherent benefit of wheeled coolers. And to think, convenience, speed, and less fatigue are just a few of the advantages.
Incidentally, who says coolers are just for drinks? Far from being ideal only for the outdoors, wheeled coolers will make routine tasks easy! Besides food and cold beverages, the best wheeled cooler will also be perfect for keeping cool your fresh produce, meat, fish, poultry, as well as ice cream! Hence, there's no need to worry about carrying those groceries or taking multiple trips since you can keep them in your wheeled cooler!
Things to Consider​
Since we now know the reason why wheeled coolers are the high forms of natural colors, let's discuss what factors you would need find.​
Size​
Wheeled coolers come it a variety of sizes depending on your needs and the number of people you'll be feeding. You'll find small coolers for carrying just a few cans with some sandwiches and bigger coolers up to 100 quarts. Those big coolers can carry several cases of canned beverages along with enough ice to keep them cold.
Speaking of ice, remember to consider the amount of ice you'll be using as you choose the right cooler size. A good guide is that the ice will fill around a third of your cooler. Besides ice, a bigger group will, of course, need a bigger cooler.
Finally, another factor that would influence the size of your cooler is how long you'll be using it. Obviously, a longer trip will need more food which in turn calls for a bigger cooler.
Durability​
Although fabric and plastic coolers will vary in their toughness, you'd want one that will at least hold up to your regular or planned routine. For this purpose, camping and frequent traveling will require more durable coolers. Hence, for instance, thicker exteriors on plastic coolers and extra padding on fabric coolers.
On the other hand, if you take coolers on short day trips or occasional events, then you can opt for a more affordable, albeit less durable, cooler.
Moreover, an excellent reminder on fabric coolers is to look for those that feature tough materials, tight and proper stitching, and thick zippers.
Additionally, an important regarding durability is when it appropriately describes the lids as well the wheels and the handles of your preferred cooler.
Handles & Wheels​
You're now confident of the durability of your future cooler's handles and wheels. However, you may also want to look at some more of their features.
For instance, there are telescopic handles that are behind the cooler, similar to a cart. Meanwhile, there are also coolers with plastic handles hinged onto their sides. Whichever you choose, make sure it is comfortable enough to pull along behind you. So, you may factor in your height, the probable weight of the cooler, and the possible terrain that you may encounter.
Speaking of the terrain, that brings us to the all-important wheels. Ultimately, you should look for thick and sturdy wheels ready for any terrain, especially if you plan to take your cooler camping. Hence, the best wheeled coolers feature large and heavy wheels that will quickly follow wherever you may go.
The Five Best Wheeled Cooler​
Famous brand Rubbermaid's wheeled cooler comes in a large 60-quart capacity with telescopic handles, which is perfect for larger groups and a heavier pack. Although this model is available in smaller sizes, the 60-quart unit is the only wheeled cooler. However, included in the large model are the said handles, sturdy wheels, a drain plug and dual hinged lids with two cup holders each.
The dual lids perfectly complement the cupholders since you can open one lid while you keep a couple of drinks on the other.
Resists stains and odors
Excellent low-temperature retention
Antimicrobial interior liner
You can easily clean its interiors.
Lid features cup holders and also a convenient drain on the front of the cooler.
Heavy-duty double –walled construction
This cooler can keep low temperatures sans ice as long as the items inside are cold.
The cooler from Igloo features a 40-quart capacity, flanked on both sides by a total three hinged swing-up handles. The longer handle opposite the wheels would be the one primarily for towing. Meanwhile, the two shorter handles allow you to carry the chest like a standard cooler.
The wide tow handle and rugged wheels combination make this cooler from Igloo a breeze to bring on your next trip!
Resists stains as well as odors
Compact size perfect for two to four people
Thicker and tougher plastic construction
Convenient water plug
Two different-sized handles on both front and back for easy towing.
The plastic is BPA-free

Tougher and more durable wheels would be nice.
Cooler giant, Coleman, gives us a very portable, yet durable, soft wheeled cooler that can hold up to 42 cans! Additionally, the telescopic handles and sturdy wheels make this cooler easily transportable even when full. Also, present inside the Coleman soft cooler is a hard plastic liner for better rigidity and leak protection.
Moreover, this Coleman cooler features two size handles for more carrying options as well as several pockets so you can optimize storage space. The lid bungee cords, for instance, are particularly useful for carrying gear or utensils that may not fit inside the cooler.
Capacity: Holds around 42 cans
Telescopic Handles
Detachable thick plastic liner
Some mesh and zippered pockets as well as bungees on top for more storage
Eco-friendly PEVA liner.
The PEVA liner is anti-microbial and also resists odor, stains, and mildew.
The PEVA Liner and thick plastic liner are FDA-approved.
No-leak constructionTough and durable exterior.

This could use bigger wheels.
If you're looking for sheer size, this other Wheeled cooler from Coleman will surely suffice. The Coleman Xtreme 5 boasts a 100-quart carrying capacity - that's around 160 cans or more than six soda cases! Going on a trip with your family or group of friends? The Xtreme 5 has your back.
Similar to the wheeled cooler from Igloo, the Xtreme 5 sports three hinged handles. Two handles are for easy carrying and the third is a longer and wider tow handle opposite the wheels. There are also four cup holders on the thick hinged lid for handy beverages!
Lastly, the Coleman Xtreme 5 gets its the number in its name for its excellent temperature retention! It's Xtreme 5 because you can keep the icy temperatures for up to five days.
Capacity: 100-quarts
Hinged handles
Lids feature cup holders
Excellent low-temperature retention, up to five daysLeak-resistant water drain
Large durable wheels for all terrains
Easy-clean interiors
Eco-friendly insulation materials are free from harmful CFCs, HFCs, or HCFCs
Massive size
The Coolest Cooler certainly earns the right to its name. Firstly the Coolest cooler easily has the most features on any cooler on our list and goes far and beyond what standard coolers would offer. Where to even begin?
First, The Coolest boasts a built-in blender for on the spot cocktails or smoothies. Powering this blender, as well as the built-in USB charger and the led lights on the lid is a 20-volt rechargeable battery built inside the cooler. And that's not even the half of it.
Besides the Coolest Cooler's sturdy and rugged exteriors, it also features a built-in bottle opener, with a magnet that catches the bottle caps; four plates; a knife; corkscrew; and a detachable chest divider that you can also use as a cutting board! Moreover, you would also get extra storage with the bungee cords on top of the chest. Additionally, you'll be able to listen to your favorite music on the go with the included Bluetooth speaker whether you keep it in the coolers compact storage drawer or on its own!
All those features and inclusions do raise the cooler's total weight. However, the telescopic handles and the perfect all-terrain rubberized wheels still make towing this beauty an enjoyable experience!
Make beverages on the spot with the blender
20-volt rechargeable battery powers the blender
Removable splash-proof Bluetooth speaker (Bluetooth speaker)
The USB charger is waterproof
LED-lit lid
Built-in bottle opener with magnetic catcher
Four integrated plates, as well as a ceramic knife, corkscrew, and also a removable divider that doubles as a cutting board
Bungee cords for added storage as well as reinforced lid hinges
Thick insulation and tough exteriors
Sturdy rubber wheels with excellent traction

The Coolest cooler would be cooler with longer handles.
Stay Frosty
We've got to hand it to the Coolest Cooler since we'd find it difficult disagreeing with its name. It is indeed the coolest cooler with the best features!
Conversely, the Coolest Cooler is admittedly not a simple cooler, per se. However, its size, durability, numerous additional features, and gadgets can't be beaten. Also, with its Bluetooth speaker, plates holder, blender, bottle opener, and USB charger, the Coolest Cooler will be the only cooler you'll ever need and more! Accordingly, It earns our title of Best Wheeled Cooler!
We'd be delighted to hear your thoughts and suggestions regarding wheeled coolers too! Let us know!