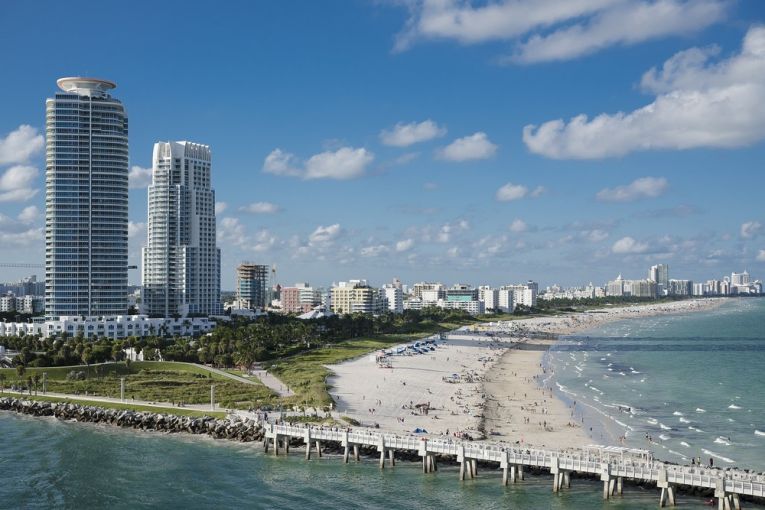 First Timers Travel Guide to Miami, Florida.
Miami is one of the biggest city in the U.S, and one of the most famous tourist cities as well. If you are planning your next trip to the States, then you have to stop by Miami, Florida and get to know the best of the sunshine state.
If you are all about tropical weather, beautiful beaches, sunny days and great places to visit alone or with your family, then Miami is the right city for you. There are so many things to do, you won't ever get bored.
We are going to tell you everything you need to know about this tropical city. From places to stay, the best places to eat and of course, all the cool locations you need to visit while you're there… Are you ready?
Getting to Miami, Florida.
Whether you are traveling from any other city within the United States, or if you are traveling overseas, there are two easiest way you can get to Florida, and then to the sunny city of Miami.
If you are coming overseas from any other country in the world, we've good news! The Miami International Airport is one of the most important airports in the country, which means most flights fly directly from any other city to there, so getting a plane ticket won't be a trouble at all.
Now, if you are traveling from any other city within the United States, you can also get to Florida by driving (If you are up for a road trip!) However, catching a flight is also a cheap and faster way to getting to this beautiful city.
Best places to stay in Miami.
Depending on your budget, and how much you are willing to spend, there are many different places where you can stay in the city. From luxurious hotels, to more modest yet really incredible places, there are many places where you can stay!
The Marriott Stanton South Beach Hotel.


You can't go wrong when it comes to the Marriott hotels, they are always the same: Big, with really great rooms, amazing facilities and really good prices.




You can get a room for approximately $300 a night, although they do have special discounts always going up, you just need to search for them before getting a room.

Fontainebleau Miami Beach.


If you are looking for a hotel and resort, then this one is the one for you. It's a five star hotel located right in front of the beach, with multiple pools and luxurious rooms. Booking a room can cost you about $249 a night, depending on the type of room you choose.

Hotel Croydon.


Although this one is cheaper than the others, it is still a really good hotel with beautiful interior decorations, big rooms, free WiFi and a great location. Booking a room can cost you up to $98 a night.
Keep in mind, these are only a very few of the many hotels and resorts you can find in Miami, there are still many great places like the Hilton Bentley, the Delano South Beach and the Metropolitan Miami beach hotel.
What to do in Miami.
Like we said before, Miami is the perfect city to visit if you're all about sunny days, beautiful beaches and tropical weather! So of course, all the best things to do in the city involve one of three things: Outdoor spaces, the ocean, and family-friendly spaces!
Visit South Beach.


Probably Miami's most famous beach, South Beach has clear blue water, white sand and amazing skies waiting for you all day, everyday. It's the perfect beach to spend the whole day at.




The South Beach area, however, is so much more than just a beach. People also travel all the way to there to go shopping in the famous Ocean Drive, and of course, to enjoy the vibrating nightlife.

Stroll around Ocean Drive.


Like we just said, Ocean Drive, located in South Beach, Miami, is the most famous boulevard in Miami, and probably in the U.S. If you want to shopping and enjoy some delicious foods, while enjoying the nice view of the beach, this is the right place for you.

Visit Wynwood Art District.


The walls of Miami are painted with the works of upcoming and famous artists to create the world famous Wynwood Art District, where you'll find incredible paintings right there, on the walls! (And you will get to take some amazing pictures for your Instagram as well).

Visit the Museum of Ice Cream.


This place has become extremely popular amongst young people, and for a good reason: It's a whole museum dedicated to Ice Cream! and it isn't like anything you've ever seen before. With incredible and interactive exhibitions and rooms that are meant for you to take photos in, this place is a must visit when in Miami.

Visit Jungle Island.
If you're all about adventure and outdoor activities then Jungle Island is the right place for you. *From kayaking to parasailing, they offer every fun outdoor activity.* It is located really close to South Beach and Downtown Miami and it is one of the biggest attraction in the city. You do have to pay to get in, and ticket prices can vary depending on the season, however, it is totally worth it the money. *Read more* about it here.
Visit Little Havana.


Delicious food, music and an overall great vibe wait for you in Little Havana, a small but unique district of Miami dedicated to Cuban and Latin culture. You can find anything from restaurants to little shops in here, and chances are there's always Latin music playing all day long!
Get ready to travel to Miami, Florida.
As you can see, there are many things you can do in Miami (the ones we mentioned are just a few of the best things to do in the city!) However, if you are planning to visit the U.S you do need to check your VISA or ESTA status.
An ESTA is an electronic permission to enter the United States, given to those who are part of the visa waiver countries. If you are part of these countries, it means you benefit from the ESTA and can travel to the U.S without having to apply for VISA.
However, if you aren't part of the visa waiver countries, you do have to apply for a tourist VISA in order to be able to enter the U.S. Once that's done, you are ready to visit the beautiful city of Miami!