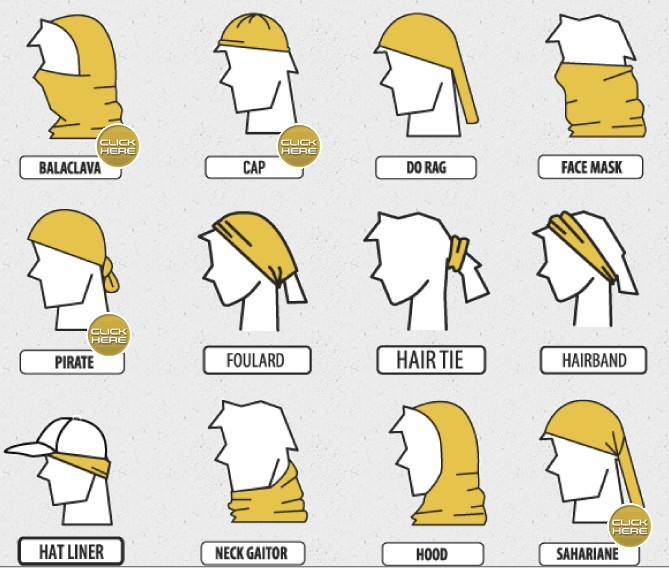 Tips about How to Wear a Buff Easily
Many campers have found the buff being an important piece of fabric for their lives as campers. It is one of the best headgear options you can get for using on a camping trail. You can end up using the same model for various uses depending on what you are looking to achieve. It is always important that you understand how to wear buff correctly to fully utilize what it has to offer.
More...
So, why do people like to wear a buff other than being a great headgear? Well for most people, a buff provides them with a great way of controlling the temperature around their head. The material is made to have moisture-wicking properties. This should keep the sweat under wraps thus prevent loss of body heat.
With that in mind, we get to look at how to wear buff easily while on a camping trip.
Tips about How to Wear a Buff Easily
What you'll need​
Steps
1. A neck buff​
It is possible to wear the buff around the neck. Some common scarves would make a person feel itchy around the neck, but a buff is different. It will not get irritable or itchy with time. The buff will also not unravel or loosen to expose your neck to the chilly drafts while outdoors.
2. Face mask​
For those times when the conditions are really cold, then you can have the buff being used as a facemask. You simply have to pull it over the mouth and nose. Since the fabric used to make the buff is something breathable, you should not have any problems breathing. This is unlike other fabrics that would get sticky with time when used over your nose.
3. The balaclava buff​
For those who have been in winter seasons, they understand the importance of protecting yourself from the harsh cold season. Well, that is possible if you get to use the buff as balaclava scarf and protect yourself. If you have to ride a motorcycle, you get to wear it easily under the helmet without feeling uncomfortable with the buff on your head.
This video should show you more on how to wear your buff balaclava and much more.
​4. For sun protection
Whenever you are on a camping trail, it is often that you will be exposed to the sun. This means that your skin is exposed to the UV rays and you will sweat a lot. Having to use a buff for sun protection helps in keeping the sweat from rolling down your forehead and further protects the back of the neck from exposure of UV rays. You need to pick a UV buff if you are looking for the best protection.
5. Sweatband for jogging​
​If you like to get yourself a morning jog, then it is time that you get to buy yourself the best buff to act as a sweatband. Each time you will out there running, the band will catch the sweat and prevent it from getting into your eyes.
6. Use it as a headband buff​
If you were into headbands, then a buff would come in handy. It is all about how you configure it to work as a headband. You get to fold it into thirds and then you have your headband ready. This can be great for those who not want a full beanie, but still want to protect their ears with the buff.
7. Buff bandana​
There are several applications of a bandana depending on where you are camping. Most of the time you would use it for protecting your head from cold conditions among other things. Some would use it under a cycling helmet, making sure that it is all good. With a few twists, it can be adjusted to make sure that it fits on your head perfectly.
8. Buff beanie hat​
This would be another fun thing to do with the buff. You can now wear it as beanie hat. You simply have to twist at the middle of your buff, and you get a fitting and stylish beanie hat. You can be sure now that the morning cold at the campsite would not even affect you. If you get to throw on the hood of the jacket, then you are good to camp even in the winter.
Conclusion​
The different ways of wearing a buff mentioned above are just but a few. It is possible to get creative by yourself to end up with the best options of wearing a buff. YouTube is a great resource full of videos that give you more information about how you can configure your buff for several applications. Thanks to the overall design of the buff, it is the reason many people get to use it for various uses. If you now like it, you can always buy one for yourself and start experimenting.​