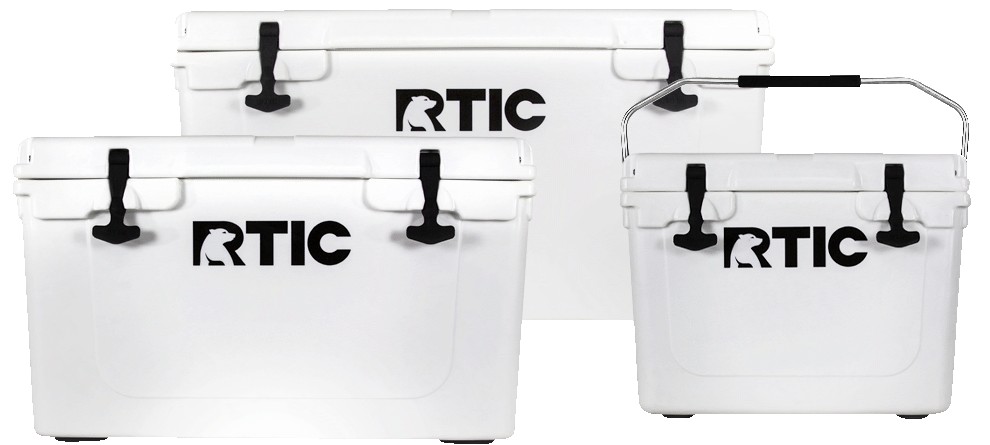 RTIC 20 Cooler Review: A Closer Look at One of the Best Coolers on the Market
I've always loved being outdoors ever since I was young and I don't plan on stopping. In fact, I'm always looking out for a new adventure. Along with that, I'm also always looking out for the best stuff for my adventures. One of the things I think is essential is a cooler. This article is an RTIC 20 cooler review. It's one of the best kind that I found at a very reasonable price.
What to consider when choosing a cooler
The demands of your intended use
There are many different types of coolers nowadays, but the most common ones are the traditional coolers and high-end ones. The traditional ones are the ones you often find in grocery stores, and they can keep items cold for at most a day. High-end coolers, on the other hand, can keep things cold for a much longer time than a traditional cooler. They usually have a rotomolded construction with insulating foam for the best kind of insulation performance. They are also more durable than a regular cooler.
Insulation performance
As mentioned above, the insulation performance of a high-end cooler is much better than a traditional cooler. So, if you plan on storing fresh food for multiple days, this would be the better option. They can keep a more reliable and safe temperature for fresh items, so they stay fresh longer.
If, however, you're only using the cooler for less demanding situations like picnics and beach trips, then a traditional cooler will suffice. The price difference between high-end and traditional coolers is very great, so there would be no point in spending so much when you won't need to.
Durability
Another significant difference between conventional and high-end coolers is durability. High-end coolers are so much more durable than a regular cooler. They are designed to withstand tougher conditions and even bears. So, if you're camping in bear country, then make sure it's bear-resistant. Most high-end coolers usually are.
Cooler size and capacity
The next thing you want to decide is the size of the cooler. This mainly refers to storage capacity, but it also affects portability. The larger it is, the more you can store, but also the more difficult it is to carry or transport. You'll also want to take note of the external size or external dimensions. Make sure the size will fit your vehicle or wherever you plan on storing it, as well as bear boxes in the campsites.
The size of the cooler is also a factor affecting insulation performance. Larger coolers hold ice longer than a smaller cooler if they are packed the same way. However, a small cooler that is fully loaded will hold ice better than a large cooler that is half empty. With that in mind, you should choose a size that you will fully load at the beginning of your trip so you can maximize the insulation capacity.
There are many cooler sizes in the market. For high-end coolers or rotomolded coolers like RTIC, the smallest size is usually 20 quarts. It can carry enough drinks for a small group of people, or enough food for 1-2 people for an overnight trip. When choosing a size, it helps to keep in mind how many people you are packing food and drinks for, and how many days you are packing for.
Ease of Use
The next thing you want to consider is how easy the typical tasks are to do. This includes opening and closing the lid, draining the cooler, and carrying it around.
Ease of Access
There's not much to say about the ease of access. However, with many coolers being so similar (Yeti, RTIC, Orca, K2, etc.), this tiny detail can be the thing that makes one cooler stand out from the other. How easy is it to open the lid? What is the latch design? Getting items from your cooler shouldn't be such a difficult task.
Draining
Draining your cooler could either be natural or messy. This depends on the drainage design of the cooler. Coolers with a recessed channel help the drain process easier and eliminate or lessen the manual effort. Take note of the drainage hole opens or closes, as well as the size of the drainage hole.
Carrying
Lastly, how easy is the cooler to carry/hold? Although we don't intend to bring a cooler for long periods, it's still nice to have decorative handles that aren't painful to the hands. Otherwise, even a short time of carrying will feel like a long one.
Other Features
Bear-resistance
Another thing that differentiates high-end coolers from traditional ones is that they are durable. In fact, most roto-molded coolers are designed to be bear resistant. Check if the cooler is a certified bear-resistant cooler to be sure.
There are a bunch of high-end coolers on the market, but what drew me to RTIC is that it fits my bill perfectly. It is very much like the high-end like Yeti and Orca regarding construction, insulation performance, and durability, but at a lower price. All RTIC coolers are the same except for the sizes and minor differences. I have the RTIC 20, which is the smallest model of rotomolded coolers.
Above you can see the dimensions of the cooler. That size can fit around 24 cans or 25 pounds of ice. It's a great size for the job site, weekend or overnight trips, a ball game, and a picnic. They're also great for keeping drinks at the back of your golf cart or in the car during a road trip.
Features and Benefits​
The features and benefits below are the same for all the sizes of RTIC coolers. For a more thorough description, visit the RTIC cooler page.
It has a very durable rotomolded construction with up to 3 inches of insulating foam. Along with the freezer grade gasket, it can hold ice for up to ten days.
It's also certified bear-resistant thanks to the rotomolded construction and integrated locking and hinge system.
It has molded-in side handles that are quite easy on the hands. For the RTIC 20, it has a steel handle that stays for one man carry. The other sizes have rope handles for two-man carry.
Silicone T-latches keep the lid secure and prevent the cold air from escaping.
Non-slip feet, so the cooler stays in place. It also lifts the cooler up from hot surfaces.
It's easy to drain, thanks to the V-drain system and easy-flow drain spout.
There are tie down slots so you can hold the cooler down while you're driving.
Watch this video for the ice test.
Keep in mind however that there are other factors to consider, such as how full/empty the cooler is, how often it is opened, and external factors.​
How can it be cheaper than the other similar models from different brands? Does that mean it's lesser quality?​
Not. The company can sell it at a much lower price because they sell directly to consumers. They've eliminated the big box retailers and are relying on free means to promote their coolers, such as social media and word of mouth.
Disadvantages​
It's not as available as the more familiar brands like YETI cooler. In fact, you have to might have to pre-order it first. One reason they are much cheaper is that they are a direct-to-consumer retailer. They don't have commercials or ambassadors to promote their product; they only rely on social media and word of mouth.
It's slightly heavier than the other brands.
Customer Reviews
The RTIC 20 cooler has some pretty positive reviews on Amazon. Most buyers are happy with how much cheaper it is than other brands while still having excellent quality performance.I also love it for the same reason - high quality without breaking the bank.
Bottom line​
For me, the RTIC 20 (and RTIC brand in general) is one of the best deals there is. It's at the same level as the top brands like Yeti and Orca regarding quality, minus the high price. Like these brands, the RTIC cooler has a rotomolded construction which makes it very durable and unbeatable. It holds ice very well, it's easy to use, and it's ideal for hunting, fishing, and camping.
If your intended use is just for daily activities, then I think there's no need to go for the RTIC cooler. It'd be more practical to go for a traditional type of cooler. Always go over the different considerations above to help you choose the right cooler for your needs.