What Is a Good Scope for a 17 HMR?
Do you know what is a good scope for a 17 HMR or what factors you should look out for? This guide will help you to find all these out and make the best choice.
17 HMR is a popular cartridge that is well known for its effectiveness in shooting small games and varmints. The high trajectory, extreme power at close range, and high accuracy make it so great. But, to make the most out of .17 HMR you will require a good quality scope.
The perfect combination of .17 HMR and a great quality scope will help you to hit the targets precisely while hunting. But what is a good scope for a 17 HMR? There are certain components that you should consider to get the perfect scope. This guide will break all those components down. So, without wasting any time, let's get this ball rolling.
What Is a Good Scope for a 17 HMR?
When it comes to the perfect scopes for 17 hmr, then you should consider some features. Many people buy scopes randomly that ultimately become a waste of their money.
So, all you need is a little exploration and get your hands on the right scope. So, let's figure out all the features which can make your scope perfect for the 17 HMR.
Magnification Power
A rifle chambered in .17 HMR can shoot approximately-
100 yards – Close Range
100-200 yards – Medium Range
200 yards and above – Long Range
These ranges will differ by the barrel length and bullet's grain. With the appropriate scope and practice, you can shoot even further. So, exactly how much magnification you will require depends on how far you want to target.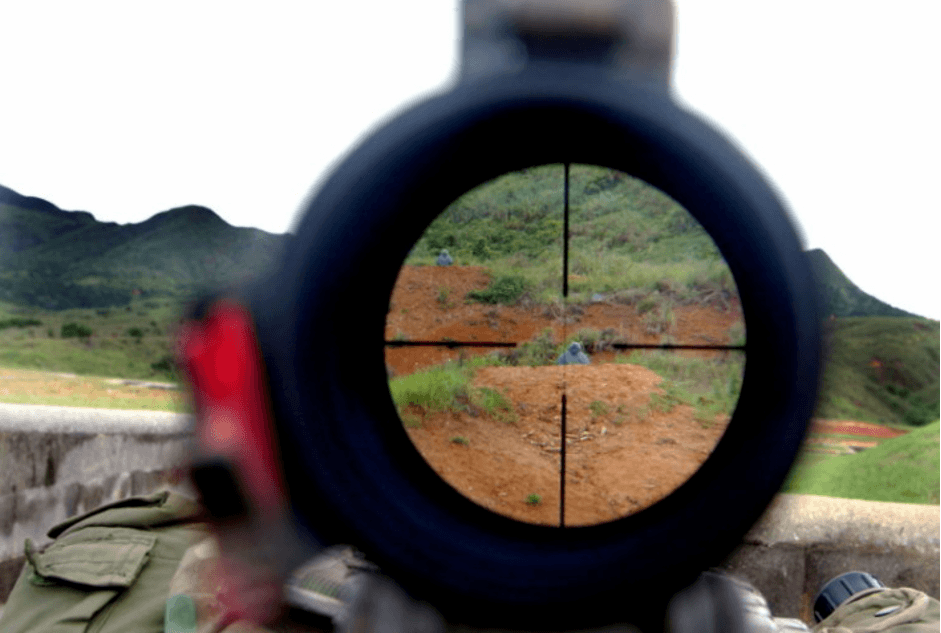 Close Range (100 yards)
Since .17 HMR is well known for the smaller varmint ammo, at this distance if you want you can go bigger. Here, using 2x – 4x magnification will be enough to scan bobcats, possums, and coyotes.
Medium Range (100-200 yards)
The medium-range is perfect for .17 HMR and for shooting you can use 4x to 7x magnification.
Long Range (200 yards and above)
At this distance, you have to get as much magnification as you can get. This is especially for targeting small targets. So, here you can use 7x and above magnification.
Objective Lens Diameter
It is the lens outside's diameter measurement. It deals with the inverse of magnification. For a longer distance, a larger objective will be best, but remember, too large can be distracting. In contrast, smaller objectives can limit your hunting capabilities. It can hamper taking a shot from a long distance. So, go for a scope that comes with a wide objective to achieve a wider field of view.
Lens Coating and Glass
To ensure the quality of your scope make sure it comes with a good glass and lens coating. These are the main factors that contribute to providing a quality image and light transmission. A better optical system will help you to view the target crystal clear and bright.
Make sure the glass comes with proper and high-quality light transmission. Multicoated and adjustable lenses are much more efficient. You should make sure your scope has a proper optical system that can give you a clear view.
Weight and Size
The best thing about 17 HMR is, recoil is not big for it thus, the scope should be lightweight. However, to handle the occasional bumps and knocks it should be tough enough. So, look out for one that can balance between weight and toughness well.
Reticle
The reticle is the scope's dot in the center. Reticle patterns are categories into 3 groups. These are-
Simple – Duplex, NikoPlex, V-Plex, Dot, etc.
Mil-Dot, MOA – Crosshairs
BDC – Bullet Drop Compensation calibrated to particular rounds
If you are planning to shoot beyond 200 yards you can go for Mil-Dot, MOA, or BDC. otherwise Duplex will come in handy for the 17 HMR as it is ideal for sighting targets in low lighting.
Adjustable Turrets
If you choose Mil-Dot or MOA reticle, you should match the turret markings with the reticle. For example, a Mil-DOT or MOA reticle should match the Mil-DOT or MOA turret. Having a turret cap is a plus point to your scope. It will help to prevent all the unintentional adjustments, especially when hunting small prey.
Parallax Adjustment
For closer and longer range shots parallax adjustment is much useful. Parallax adjustment ensures the same plane of the reticle and target to enforce a clear shot. For the 17 HMR's scope, a 100 to 150-yard parallax setting is ideal.
Material and Construction
When you go hunting you may face many different environmental conditions. Therefore you should choose a scope that is resistant to any type of extremities. Scopes designed with hard anodized coatings, water and fog proof are the best.
Also, for any scope, the aircraft-grade aluminum works best. This material makes the scope long-lasting and prevents it from bending. Another material is Magnesium alloy which is used to make scopes as it can ensure lightweight. Both these are perfect materials for 17 HMR's scope.
Eye Relief
Due to the low recoil of 17 HMR, a 2.5-inch eye relief will be enough. But make sure the eye box that is wiggle room for placing your eye should be .5 inches and above. If the eye box is less than.5 inches it will provide a slow target acquisition which can be much frustrating.
Tracking Moving Targets
There is a direct relationship between the scope's field of view and magnification. The field of view is that area that you can view through your sight. Keep in mind, the higher your magnification, the smaller your field of view will be.
As a result, less light reflects from the object and into the device. For a moving target, you will require a wider field of view. Otherwise, it has a greater chance of losing the target and facing difficulties picking it up again.
Last Thoughts
The scope is one of the effective tools for target shooting while hunting. Passionate shooters are always looking forward to the best scopes that can provide them with the best result when mounted on the rifle. Getting the best one can be a tough job as there are so many options available in the market.
Therefore, you should consider the factors that will make your scope stand out from others. In this guide, we have discussed all the features that will make your scope best suited for your 17 HMR. so, before making any decision, don't forget to go through this guide again. Make the best choice and make your hunting journey something extraordinary.