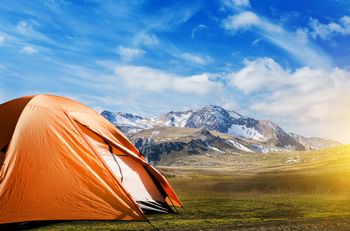 Camping is Great for Both Mental and Physical Health
Living in the heart of the city can be quite stressful. Especially now that the entire planet is waging war against a slew of microscopic enemies, it can also spell the difference between staying healthy and ending up with an infection.

In times like this, camping makes a lot of sense. It allows you to get away from it all for a while, allowing you to fortify your mind and body.

Thorough planning is essential to make your attempt at being one with nature worthwhile and meaningful. From your protective clothing to pop up canopy stakes, everything needs to be taken into account to make your camping go without a hitch.

If you can make it a smashing success, you can rest assured that you will enjoy the many mental and physical benefits associated with camping.

Lowered Stress and Anxiety

Having a busy and demanding everyday life can cause unnecessary stress. Especially if it's not managed effectively and without delay, stress can have all sorts of impact on the body and mind, some of which can cause lasting damage that can be difficult to reverse.

For instance, being stressed all the time can cause anxiety. It can create a vicious circle as being anxious can leave you even more stressed.

Boosted Immune System

Now more than ever, it is important to have immunity against bacteria, viruses, and other microscopic enemies. Too much stress can weaken the immune system, health authorities say. With an ongoing pandemic, having a weak immune system is a complete no-no.

Camping helps bolster your immunity in many ways. It allows you to breathe fresh air and eat fresh foods. It also helps you get a good night's sleep under the stars.

Whether your immune system is stellar or not, it is important to observe social distancing. One effective way to maintain a good distance from others, including those who are potentially infected with the virus, is by spending some time in nature.

Improved Fitness Level

There are many physical activities that you need to carry out when camping. Some of them include walking, hiking, skipping, pounding, chopping, and fishing.

Being physically active is important for the attainment of optimum physical fitness. It burns excess calories and eliminates excess pounds. Getting your dose of exercise is also excellent for strengthening the heart and the rest of the cardiovascular system.

Decreased Blood Pressure

Reduced stress and improved cardiovascular health that camping can bring work hand in hand in keeping your blood pressure reading within the normal range. This helps lower your risk of complications such as stroke, heart attack, and heart disease.

Many things can cause your blood pressure to rise. One of them is having an unhealthy diet. Too much stress, smoking, excessive alcohol intake, and sleep deprivation are also culprits.

Worrying about potentially ending up with COVID-19 is enough to cause your blood pressure reading to increase. Camping helps give you peace of mind because it allows you to leave the city momentarily where it can be easy to get infected.

Before You Head Out to Camp

To enjoy the many mental and physical benefits of camping, make sure that you plan your adventure very well. Even the smallest details, such as choosing high-quality pop up canopy stakes and selecting the perfect pair of camping shoes, need consideration.

Whether it is your first time to go camping or you have been doing it all your life, it is a must that you put your health and safety above everything else.